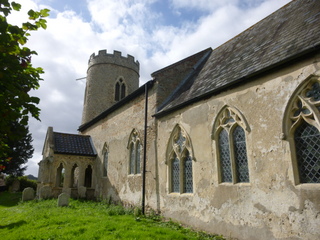 Hellington, St John the Baptist
In the care of Churches Conservation Trust. On a quiet hilltop setting overlooking the Yare valley, in the medieval period it was close to Langley Abbey and the Norwich to Loddon road.
Now it lies about three-quarters of a mile east of the A146 Norwich to Loddon road.
To quote Paul Cattermole, the author of the excellent guidebook "Outside, the building is a blend of humble local materials – flint, brick and plaster- brought to life by the sophisticated use of expensive foreign limestone."
Cattermole considers that the two Norman doorways and the lower part of the tower are from a church built between 1070 and 1150. The flints in the lower part of the tower are carefully graded and coursed. Those in the upper part of the tower are uncoursed and were originally plastered. Knapped flint and brick in the parapet. The trefoil detailing on the belfry windows suggests late C13 date. Tall round headed tower arch largely made of flint.
The flint work on the north side of the nave is similar to that at the top of the tower and suggests that the church was rebuilt in c1300 and the Norman doors were re-erected in the new walls. Norman south door is made up of a complex pattern of chevrons, bobbins, and billets.
The door is viewed through an unusual C14 porch with delicate and complex windows, columns and capitals. There is a five-light window at the east end, a Victorian replacement with C14 stops. The tracery of the windows on the south side are varied with carved stops. In the C15 a brick clerestory and north window in nave were built. From C17 parish was poor and the church became dilapidated but was restored in C19. Internally fine proportions and light with some fine C14 stone work around the windows and chancel arch. Fittings are mainly C19.
Joseph Biddulph visited Hellington – see The Round Tower ( December 2011).