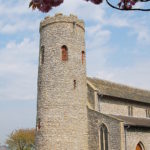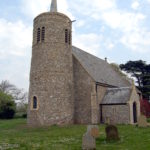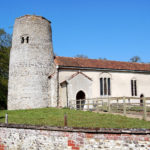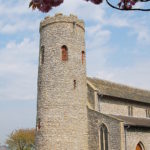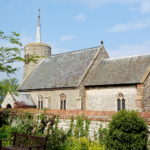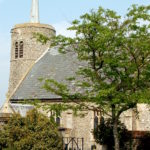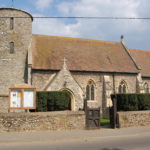 St Mary, taken by Tony Walsh in 2019.
Taken from Notes & Observations. Eastern Evening News, August 6, 1932
'The weakest go to the wall.'
Church pews and pew rights – Previous to the Reformation the church services were all performed within the chancel, into which the people were not admitted. They had perforce to congregate in the nave and contrive as best as they could to see what was taking place, being satisfied very often with just a vision of a procession and the low chanting of the priests.
The old and enfeebled could not, of course, stand very long, and for them, here and there, stone seats were placed near the walls for them to sit upon. A splendid example of this is to be seen within the church at Pakefield, for it was from this old practice that the saying arose, "The weakest go to the wall." Subsequently it became usual for one of the priests on a Sunday to pass out into the nave among the folk gathered there and preach a short sermon or homily. This was greatly appreciated, and very soon the sermon was considered of great importance, crowds flocking to churches to hear the eloquence of the reformed divines, which made a great impression on them.
Sermons of a great length were preached, and it was essential that fixed seats and sometimes galleries should be made for the accommodation of those who gathered around the pulpit. Local craftsmen vied with one another in their carving of bench-ends, producing very often marvellous results and beautiful workmanship, which in many churches, still remains to be seen. This would, of course, mean expense, and it can be understood that where a family, or an individual, or a body of people, bore the cost of a particular seat they should within reasons be allowed to sit there.  A R Bishop.
Taken from Notes & Observations. Eastern Evening news, July 23, 1932  The 'north side' of Churches
In many parts of Norfolk and Suffolk there still remains sufficient evidence to show how marked was the aversion of former generations to the north side of a church or  churchyard, and how inbred were the ideas that the north quarter was the home of evil demons.  It was not uncommon to find that the area devoted to burials on the north side of a church is smaller in size than on the south side, and more often than not neglected in upkeep, while the church building itself on this side seems to have been forgotten altogether. In architectural detail the north is inferior to the south side, but apart from superstition the wisdom of the old church builder is seen in this.
That ordinarily the windows of the north side of the nave were fewer in number and smaller in size than those on the south side, to avoid as much as possible the entrance of the cold north winds into the church. This applies to the chancel, which had very few openings on the north side and sometimes none at all. Near Great Yarmouth, Clippesby, Mautby, Gunton and Billockby are examples.
Till the advent of the Perpendicular style, with its vast window spaces, for the holding of large areas of painted glass, the east window was on a smaller scale than is now usual, and in Early English churches the sill was high enough to set the draughts above the head of the officiating priest; Strumpshaw is a case in point.
It would seem a natural desire that in regard to burials these should take place on the south side, for the greater number of churches have their main porch or other entrance on this side. The graves of those buried would therefore be seen by succeeding generations of worshippers, and prayers offered up for the repose of their souls by those frequenting the parish church. With very few exceptions, the priest's doors open to the "sunny south" and here and there the markings of an old time or sun dial, can be seen on the stone work.
For burial purposes it was long held that the north side of a churchyard was appropriated to the burial of unbaptised infants, suicides and excommunicated persons, and thus in time it became to be called "the wrong side of the church." Many north doorways have been blocked up, but where they are in use it is often only to permit the passage of a corpse into the churchyard for burial. Such a practice prevails at Great Yarmouth Parish Church, an en passant a glance upward at the church fabric thereabout shows how scant has been the attention given to it. A R Bishop.
Taken from Notes and Observations. Eastern Evening News. October 11, 1930.
Norwich thatched churches and other buildings – Eaton, St Andrew's, is the last of the Norwich churches retaining its thatched roof, but there were others, as I discovered when looking through some pictures by James Sillett, published in 1828. Reference to Blomefield yielded further information, which is summarised
St Peter de Southgate – The chancel was thatched in Blomefield's time (1744) but was tiled in 1828.
St Etheldred's had its nave and south porch thatched in 1744, but the porch was tiled in 1828.
St Julian's chancel was still thatched in 1828.
St John Timberhill – This previously thatched nave was tiled by 1828.
All Saints had its north vestry, nave and chancel thatched in 1744, but Sillett shows only the chancel thatched, his view having been taken from the south.
These are all the intra-mural churches that were thatched at that time, but in the hamlets, Heigham (St Bartholomew) which then (1744) consisted of nave, chancel, tower, north porch and aisle, had a thatched nave, but this appears to have been covered by lead by 1828, and at Eaton "the north porch, nave and chancel are all thatched." It is noticeable that the city churches mentioned are (or were) all in the King Street and Ber Street area.
This may be due in some measure to the serious fires that occurred in April and June 1508, and laid waste the north-west part of the city, so that in 1509 the Court forbade any new houses to be thatched.
The Black Tower (alias the Snuff Tower, on Carrow Hill, was crowned by a conical thatched roof, until on July 7, 1833, a fireball fell upon it, and the building was burnt out.
There are, it has been stated, 16 thatched houses in Norwich. I have seen the Boar's Head, St Stephen's, the old "Barking Dickey" in Westlegate, and a building in All Saints Passage; the old "Rosemary" in St Mary's; a house in St Swithin's Alley; and two in Eaton village.
In an account of Kett's Rebellion published in 1859, is an illustration of Becket's Chapel in Wymondham, which seems intended to show a thatched roof. When was the thatched removed? – L M
A further note on thatched churches by Claude J W Messent – November 26, 1933 in Notes & Observations, Eastern Evening News.
It may be interesting to set on record a list of Norfolk churches with thatched roofs
1 Acle (nave only) (RT); 2 Beachamwell St Mary (straw thatch?) (RT); 3 Beighton (nave only); 4 Billockby (chancel only, nave in ruins); 5 Old Buckenham (straw thatch?); 6 Burgh St Margaret (with dormer window above porch on south side); 7 South Burlingham; 8 Claxton (nave only); 9 Coltishall; 10 Drayton (nave only); 11 Eaton, St Andrew
12 Edingthorpe (nave only) (RT); 13 Filby (nave only); 14 Hales (with semi-circular apse to chancel) (RT); 15 Hassingham (RT); 16 Heckingham (with apse as Hales) (RT); 17 Hempstead (near Stalham); 18 Horsey (RT); 19 Horsford (chancel only); 20 Hoveton St Peter; 21 Ingworth (base of fallen round tower has recently been covered with thatched roof, which is semi conical in shape) (RT); 22 Irstead; 23 Lessingham; 24 Mautby (RT); 25 Ormesby St Michael (Little Ormesby); 26 Paston (nave only); 27 Poringland (chancel only) (RT); 28 Potter Heigham; 29 Ranworth (chancel only); 30 Reedham (nave only); 31 Rockland St Peter, near Attleborough (straw thatch? nave only) (RT); 32 Salhouse; 33 Scoulton (nave only, straw thatch?)
34 Seething (nave only); 35 Sizeland, near Loddon; 36 Sloley (chancel only); 37 West Somerton (nave only) (RT); 38 Stockton, near Beccles (very elaborate pattern) (RT); 39 Swafield (nave only); 40 Taverham (chancel and nave thatched but not south aisle) (RT); 41 Thurlton; 42 Thurne; 43 Thurton, near Loddon (very elaborate pattern); 44 Thwaite, St Mary (very elaborate pattern); 45 Tivetshall St Margaret (chancel only, straw?) 46 Waxham; 47 Woodbastwick. The following week, another correspondent added St Andrew's, Trowse, which has a thatched chancel.
There are 13 round tower (RT) churches listed – editor's addition.
Summer 2019 church tour
Members met in the Waveney Valley, reports Stuart Bowell.
Our summer tour season began in the Waveney Valley at Brome St Mary. Munro Cautley's summary makes interesting reading: "This church is a remarkable example of Victorian taste, having been practically rebuilt in every know style of English Gothic from the Norman period onwards." However, the fine south porch is medieval and the Cornwallis tombs are of interest. Thomas Cornwallis was Comptroller of the Royal Household during the reign of Mary Tudor. Brome has recently received a grant from the Society towards the cost of repairing the tower roof.
Syleham St Margaret is blessed by its setting in the Waveney marshes. The tower here is circular for the full height of 48 feet. Since our last tour here, the name of Lt Col Leeder has been added to the existing memorial to his wife. He was a great supporter of the church and friend to our Society, hosting our visits on more than one occasion. Syleham has also recently received a grant from us.
Weybread St Andrew also has a tower circular for the full height of 53 feet and a good south porch, with some flushwork. Botanists in our party were excited by a large display of birthwort, a very rare plant, nearby. Inside much is Victorian including a huge painting on the west wall of Christ the King. An interesting memorial here is to Sergeant Alfred Ablett, the first Suffolk recipient of the Victoria Cross, for bravery in the Crimean War.
Into north Norfolk in June
In June we visited the North Norfolk coastal area. Burnham Norton St Margaret stands in a commanding position. The tower is early, from the Saxo-Norman period, circular for the full height of 55 feet. There is so much of interest in the church; a sturdy Norman font, a fine screen of 1458 and a wineglass pulpit with the donors, John and Katherine Godale depicted on two of the panels. An unusual feature near the north door may once have been an oven to bake wafers for the Mass. There are two sets of Royal Arms, one dated 1697 and the other from the Reign of George IV. Captain Woodgate of the Cutty Sark, is buried in the churchyard.
Burnham Deepdale St Mary's tower is circular for its full height of 41 feet. Many treasures are to be found in this church. Visitors come to see the Labours of the Seasons font and wonder at its carvings. There is much old glass, but perhaps the greatest treasure on display is a priest's vestment, a chasuble, dating from the 15th century – a rarity indeed. Burnham Deepdale has recently received a grant from the Society.
Titchwell St Mary's tower is circular for its full height of 40 feet 6 inches. Above this is a lead covered spirelet, topped with a cross. Work on the church was carried out in 1902, when the screen was also restored. An unusual object found here is a free- standing pedestal font, perhaps in use when the original font had 'gone missing'.
All members are welcome to join the Society's tours. For details of the promgramme, see Events.
Around the churches in summer 2018
Swaffham and beyond, report by Stuart Bowell.
Our July tour took us first to the north of Swaffham and then further north to the west of Fakenham. East Lexham, St Andrew, stands near farm buildings, with sheep grazing in a circular churchyard. The tower, 41ft 6ins high, was described by Munro Cautley as "round and very irregular and roughly built and batters the whole way up." The nave and chancel are under a continuous roof and the walls are rendered. All four corners of the church have stone quoins and exhibit long-and-short work, lower down. Three double-arched belfry openings are all different, the one facing east is formed from a huge stone slab, with the opening pierced in the shape of a cross. Inside the church is an unusual chair made from three misericord seats, while the memorial for the local men who fell in the Great War has a vivid painting of St Michael.
Shereford, St Nicholas has a circular tower for its full height of 40 feet and is topped with an overlapping lead cap. The south doorway is Norman and the blocked north doorway is in the Early English style. Remains of piers and arches in the north wall show that there was once a north aisle. The large east window has 14th century style Decorated Tracery, while an early window in the south wall of the nave, has exterior and interior splays. Inside a solid looking circular Norman font has scallops on the lower part of the bowl.
Syderstone, St Mary has a tower circular for its full height of 46ft and dates from the post Norman period, although its west doorway is formed from repositioned Norman masonry. Outlines of pointed arches in the north wall are evidence of a former 14th century transept. Entering the church through the door in the tower, one is struck by the contrasting large round pillars on the south side of the nave, marking the former south aisle and the octagonal 14th century ones on the north side. The east window has 20th century glass, celebrating peace at the end of the second world war. An unusual feature is a metal strong box, dated 1842 and marked with the words Syderstone parish.
The August tour was in south Norfolk, close to the Waveney Valley.
Thorpe Abbotts, All Saints tower has a circular stage, 37ft high, with the octagonal belfry making a total of 55ft. Although the belfry was formerly believed to be a later addition, Stephen Hart has given convincing reasons to suggest a single build with a date towards the end of the 14th century. There are flushwork replicas of the belfry openings in the alternate faces of the octagon, which has brick quoins. Considerable restoration took place in the 19th century, but a fine octagonal font remains, with crisp carvings of the Four Evangelists. On one of the other panels an angel holds a shield, with arrows and a crown, the symbol of St Edmund and a reminder of the connection here with Bury abbey. The Royal Arms are of George III. A modern door to the tower arch commemorates the American airmen of 100 Bomber Group, who served at the nearby airfield during the second world war.
Needham, St Peter is only a few miles to the east. The tower is circular for 40ft with a later octagonal belfry making 53ft high in all. The original belfry openings can be seen in the circular stage. An external stair turret was added later to the south side of the tower. The brick chancel was rebuilt in 1735. A very pleasing 15th century brick porch with a stepped gable, leads us into the church. Here we find an octagonal font with the Evangelists emblems alternating with Tudor roses on the panels. Carved on the back of one of the benches is the following inscription "Use Wel Thy Tyme For Dethe Is Coming — M.E. – The Sentence Of God Almighty Is Everlasting." A memorial records the names of 12 men who fought in the Great War, while beneath is a second memorial to four from the second world war.
Rushall, St Mary the Virgin, has a tower of just over 51ft in total height, with a lower circular stage of 35ft. One theory is that the building of the tower was delayed by the after effects of the Black Death. This may account for the change from stone to brick quoins in the belfry section. The tower dates to the 14th century and once had an external stair turret, which was removed during the major Victorian restoration. In the church, a memorial records the names of nine men who fell in the Great War and two men in World War Two.
On a fine late summer day for our September tour, we headed north west from Norwich.
Worthing, St Margaret has a truncated tower and is the shortest of all our round towers. It is circular for its full height of only 25 feet. The chancel was demolished during the 18th century and the remaining nave is just 30 feet long. Entering through a simple Norman doorway, one sees an unusual looking font, possibly formed from two parts of the stem of a churchyard cross. On the wall is a memorial to Edwin George Neal, who died of dysentery at Pretoria in 1900.
Bylaugh, St Mary, overlooking the River Wensum, has a post-Norman tower almost 52ft high, including its contemporary octagonal section. In 1809 in a massive rebuild, Sir John Lombe, the patron, added the chancel and transepts and the church was furnished according to the fashion of the time, with box pews and a splendid three-decker pulpit. There is a good set of Royal Arms of George III. Remaining from medieval times are fine monumental brass effigies of Sir John Curzon, who died in 1471, and his wife.
Haveringland, St Peter, has a tower circular to the top with a height of 52ft including the Victorian battlements. Excluding these, it is given an attribution of 'possibly Saxon' by Stephen Hart. Much of what we see both inside and out is the result of a major restoration of 1858, although a grave slab remains with an indent which once held a brass effigy of a knight in armour. A modern memorial standing beside the approach to the church commemorates its proximity to the former Swannington airfield and those who served there during and just after World War Two. The incumbent who greeted us, outlined ambitious plans for the future.
There remained only thanks to our tour guides, 'Lyn Stilgoe and Dick Barham, ably assisted by Michael Pollitt and our farewells at the end of another tour season.
Stuart Bowell
2019
If you have an event you would like to publicise please send information to Michael Pollitt
The following tours start at 2.30 at the first church.
6 July, Bedingham, Woodton, Fritton St Catherine. 
Bedingham and Woodton. Bedingham is off B1332 south of Woodton village
3 August, Cranwich, Feltwell St Nicholas, Weeting.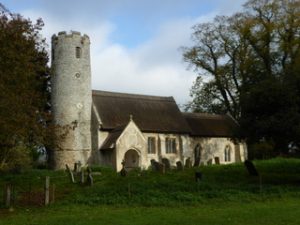 Cranwich church. Cranwich is off A134 East of Mundford
7 September, Intwood, Keswick, Swainsthorpe.
Intwood and Keswick churches. Intwood is off A47 Southern Bypass between A140 and A11.
Everyone is welcome to join the tours and all tours are free though donations are encouraged at every church. Teas will be provided by one of the churches during each afternoon. Further details from 'Lyn Stilgoe 01328 738237.
Round tower churches tours 2018.
12 May 2018: 10am Norton Subcourse, Thorpe next Haddiscoe, Haddiscoe, before AGM at Haddiscoe Village Hall at 2.15pm.
2  June  2018 Pentlow, Essex, Little Bradley, Bartlow,
7 July 2018 East Lexham, Shereford, Syderstone.
4 August 2018 Thorpe Abbotts, Needham, Rushall.
1 September 2018 Worthing, Bylaugh, Haveringland.
Norton Subcourse (this and photo of East Lexham by Simon Knott), Pentlow, East Lexham, Thorpe Abbotts & Worthing churches.
Simon Knott's amazing websites with photos and information about Norfolk churches is www.norfolkchurches.co.uk.
For his Suffolk churches site go to  www.suffolkchurches.co.uk
Everyone is welcome to join, and the Tours are free, though donations are encouraged at every church. Tea will be provided by one of the churches during each afternoon. Further details from 'Lyn Stilgoe 01328 738237.
Many thanks to 'Lyn and Dick for their hard work in setting up these tours and for the excellent Information they provide for us.
Round Tower Churches Society Study Day 6 October  2018
The programme included talks about church porches, formation of Diocese of St Edmundsbury and Ipswich,  and a tour of Stradbroke church lead by Roy Tricker. A report on the Study Day was published in December 2018 Round Tower Magazine.
A record of RTCS activities and events in 2012 – 2018. 
2018 Round Tower Church tours
May 12, 2018: 10am – Norton Subcourse, Thorpe next Haddiscoe, Haddiscoe, before AGM at Haddiscoe village hall at 2.15pm.
June 2,  2018 – Pentlow, Essex, Little Bradley, Bartlow,
July 7, 2018 – East Lexham, Shereford, Syderstone.
August 4, 2018 – Thorpe Abbotts, Needham, Rushall.
September 1, 2018 – Worthing, Bylaugh, Haveringland.
Norton Subcourse (this and photo of East Lexham by Simon Knott), Pentlow, East Lexham, Thorpe Abbotts & Worthing churches.
Simon Knott's websites with photos and information about Norfolk churches is www.norfolkchurches.co.uk. For his Suffolk churches site go to  www.suffolkchurches.co.uk
Many thanks to 'Lyn Stilgoe and Dick Barham for their hard work in setting up these tours and for the excellent Information they provide for us.
Round Tower Churches Society's study day – October 6, 2018. 
A report on the Study Day was published in December 2018 Round Tower Magazine.
2017 Round Tower Churches Tours.
Four churches visited in 2017: Fritton St Edmunds, Threxton, Bramfield & Aslacton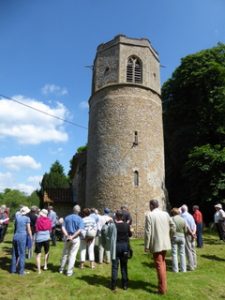 May 6, 2017 – Fritton St Edmund, followed by Ashby and Lound, and AGM at Lound village hall.
June 3, 2017 – South Pickenham, Threxton, Merton.
July 1, 2017 – Theberton, Thorington, Bramfield.
August 5, 2017 – Matlaske, Stody, Letheringsett.
September 2, 2017 – Wacton, Aslacton, Tasburgh
                                                         Members at South Pickenham on June 3, 2017.
2016 Round Tower Churches Tours. 
Saturday, May 7, 2016  – Holton, Wissett and Spexhall, and AGM at Spexhall village hall.
June 4, 2016 – Potter Heigham, Dilham, Witton.
July 2, 2016 – Little Saxham, Higham, Snailwell.
August 6, 2016 – Bexwell, West Dereham, East Walton.
September 3, 2016 – Thurgarton, Wickmere, Thwaite.
Holton by Bill Goode, Potter Heighman, Snailwell by Colin Hothersall, Bexwell by Gary Troughton, and Wickmere
RTCS Study Day: Saturday, 15th October 2016. At Rickinghall Inferior Village Hall. Speakers:
Ian Groves (Ruined churches).
Mark Mitchels (The Bible in English).
Michael Rimmer (The Angel Roofs of East Anglia).
A report on the Study Day was published in The Round Tower, September 2016.
Thefts of lead roofs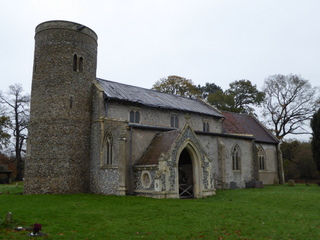 EDP published a letter from RTCS Chair, Stuart Bowell on March 10th 2016, under the heading 'Churches society welcomes the support to stop the theft of lead.' A high profile campaign to combat lead thefts from church roofs is welcomed by the Round Tower Churches Society. The support of the EDP and its sister paper, the East Anglian Daily Times, church bodies and the police commissioners in Norfolk and Suffolk , have highlighted the devastating impact of dozens of lead thefts in recent months. When St Peter's Church, Merton, near Watton, (see photo left with plastic roofing on nave) was the target of thieves again last August, the Round Tower Churches Society gave £500 towards the estimated £25,000 cost of repairs. It was the second theft in four years from that church. Members have also given generously to the society's "lead appeal" since it was launched last autumn.
2015 Round Tower Churches Tours. 
9th May 2015 Eccles, Quidenham, Croxton and AGM at Croxton.
Window at Croxton- model of Norwich Cathedral. Tower at Eccles.
6th June 2015 Hassingham, Acle, Fishley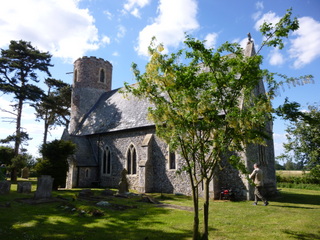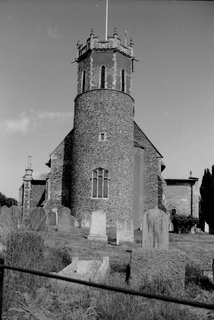 Fishley and Acle by Bill Goode
4th July 2015 South Elmham All Saints, Ilketshall St Margaret, Gisleham
Gisleham by Hardwicke Knight in 1923 and RTCS at Gisleham & All Saints South Elmham
1st August 2015 Hardwick, Morningthorpe, Forncett St Peter
Hardwick (outside only- work on inside has been delayed), Morningthorpe and Forncett St Peter. We were also shown Forncett St Mary, brought back to life by local people- a real achievement. 
September 5th 2015 Hardley, Hellington, Surlingham. 
RTCS at Hardley, Norman door at Hellington & lion from Surlingham's font. 
Tours and activities in 2014
RTCS Study Day. Saturday September 27th 2014. Speakers were:
David Stannard: The Lost Round Tower Church of Eccles-next-the-Sea.
Roy Tricker: How we used our Churches in Medieval Times.
Roger Rosewell: Medieval Stained Glass.
And a tour of St Peter's, Yaxham led by 'Lyn Stilgoe and Richard Barham.
The day finished with refreshments, thanks to  members who brought a great selection of cakes to share.
Tour of Yaxham church. Elephant pew end
Tours of Round Tower Churches 2014.
May 10th  2014 Round Tower Church Society AGM and Mutford, Rushmere and Frostenden. 
RTCS at Mutford and Rushmere May 2014
June 7th 2014: Horsey, West Somerton, Rollesby.
Mortar repairs at Horsey, pulpit at West Somerton & RTCS at Rollesby
July 5th 2014: Runhall, Wramplingham, Colney.
The chancel and tower at Wrampling and the tower at Colney, with Saxon work and its new weather vane.
August 2nd 2014: Gresham, Bessingham, Sustead.
RTCS at Gresham, Bressingham and Sustead
September 6th 2014: Onehouse, Beyton, Risby. 
Onehouse drawing from Claude Messent's book The Round Towers to English Parish Churches published in 1958. Many thanks to John Salmon who has produced ecopies of each of Messent's drawings. RTCS at Beyton with tower and integral butresses.
2013 Round Tower Churches visited.
11th May 2013 Herringfleet (NR32 5QS), Blundeston, Gunton, before AGM at Gunton Church Hall.
RTCS at Herringfleet in 2007; At Gunton and Bill and Ada Goode's memorial.
1st June 2013 Sidestrand (NR27 0LT), Roughton, Aylmerton.
Sidestrand, & Roughton. Photos by Andy Seago. Dick pointing to herringbone pattern at Roughton. 
6th July 2013 Aldham, Hasketon, Ramsholt.
Tea and All Saints Ramsholt
3rd Aug 2013 Beachamwell, Cockley Cley, Watton.
Beachamwell. Bill Goode's photo and detail of the tower

7th Sept Stockton 2013, Kirby Cane, Bungay Holy Trinity.
Stockton tower and welcome letter. Kirby Cane set amongst cedar trees
Holy Trinity, Bungay
Round Tower Churches Tours 2012
12th May 2012 Mettingham, Barsham (Suffolk) and AGM at Ilketshall St Andrew 
2nd June  2012 South Ockendon, Broomfield, Gt Leighs, Bardfield Sailing, Lamarsh
7th July  2012 Ingworth NR11 6PD, Tuttington, Brampton
4th August 2012 Raveningham, Heckingham, Brooke
1st September  2012 Gayton Thorpe, Shereford, Great Ryburgh
RTCS also visited the Battlefield area, including West Tofts church, with its metal 'pantile' roof.