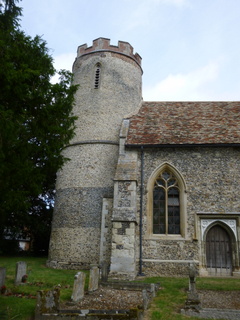 One of two round tower churches in Cambridgeshire.
Peaceful setting, in a valley, off the road. A flint salient between the tower and nave west wall is probably the SW corner of an earlier church, later replaced (apart from this remnant) by a wider church.
The photo in Stephen Hart's article in The Round Tower (June 2008), taken in 1997 shows this remnant in flint. Unfortunately the flint quoins were replaced by stone in a recent 'work' (see the photos).
Mr Hart wrote in The Round Tower (December 2007): "Sadly, this work has destroyed important archaeological evidence and distorted a piece of architectural history."
The tower has two circular stages of about the same height, and then a modern battlement. The closely packed, uncoursed, as-found flints and the tall lancet windows in the upper stage with four single light belfry openings three with tall lancets both suggest a C13 date.
The church seems to have been substantially rebuilt in C14. Bartlow has some fine wall paintings, restored in 2014: St Christopher, the weighing of souls with a good demon and a dragon.