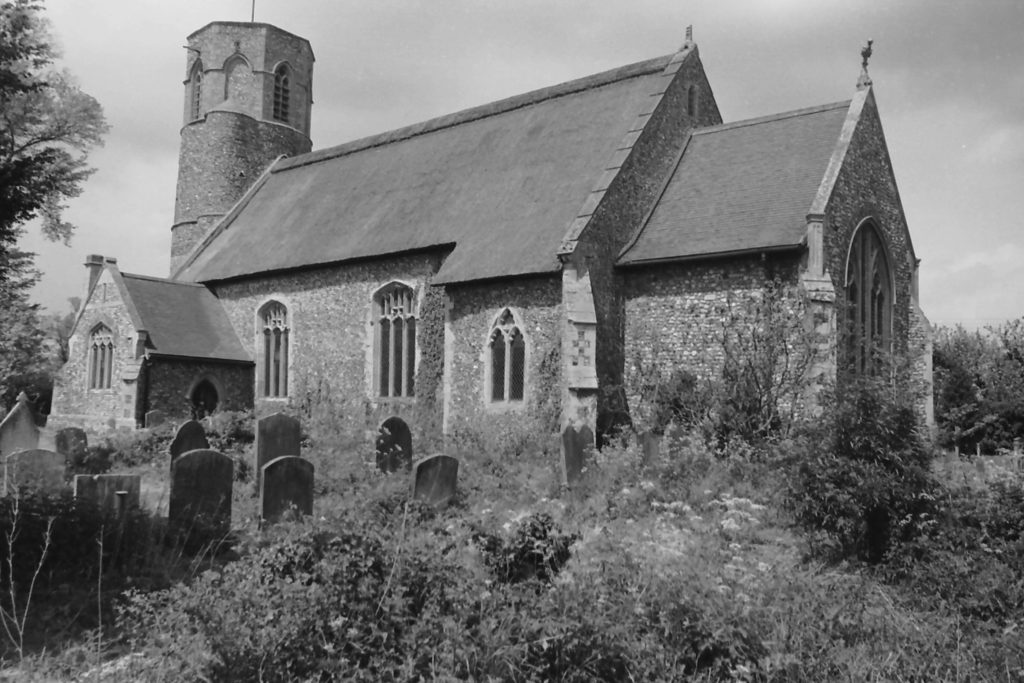 In a serene rural setting, just off the B1077 between Watton and Attleborough, the tower is in three stages. It rises from a flint plinth with dressed Barnack stone.
The first two circular stages are separated by a stone string course. The third stage is octagonal. All three stages are of similar fabric of closely packed flint rubble with coursing in some areas. In the second circular stage are three rectangular stone windows at first floor level and two decorated style belfry windows in the upper octagonal stage, which is circular internally.
As Stephen Hart argues, the tower is of a single build and the decorated windows suggest at C14 date, making it one of the later round towers. The tower arch is tall and pointed with stone dressings on both sides. There is a fillet between the church and the tower and a stair turret which is of the same build as the tower.
The porch is built of stone, flint and brick and has a panel listing those who paid for the rebuilding in 1624.The nave is of the same C14 date as the tower, with a tiny transept. The chancel was built in 1909 to replace one ruined many years before that. Inside there is a fine screen, brought to the church in 1950 from nearby Tottington in the STANTA battle area. Large C14 octagonal font.