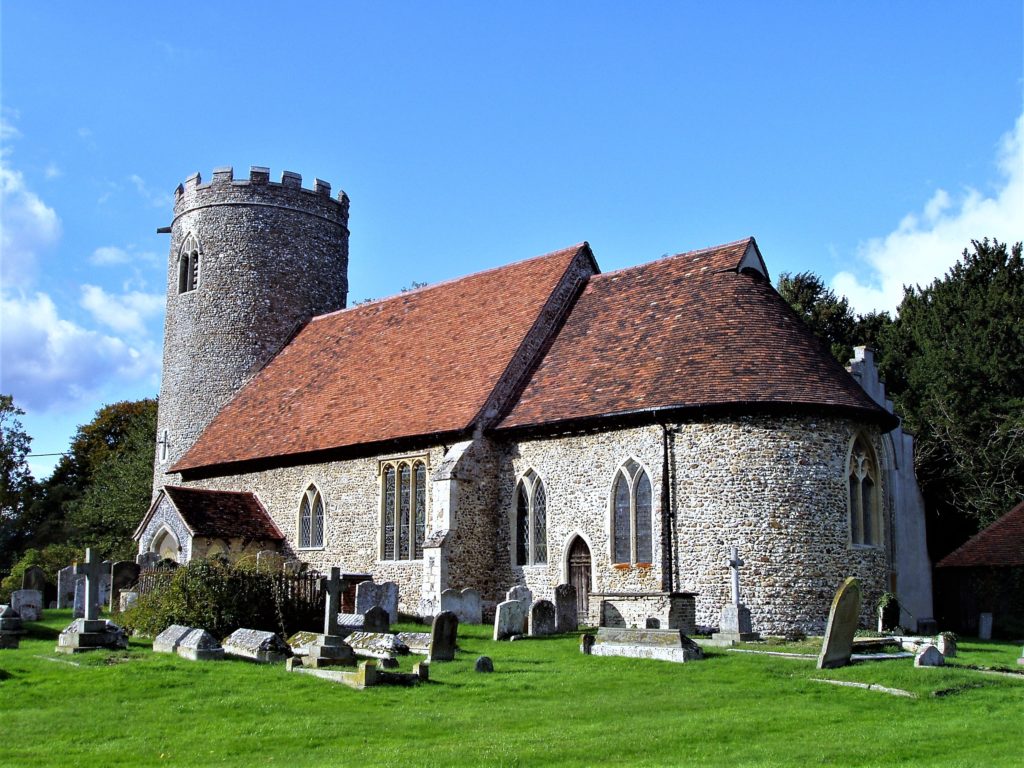 Pentlow St George and St Gregory, Essex
It lies just yards south of the River Stour, close to Cavendish, and set back from the road midst trees.
The tower, like most of the church is built with as-found rubble flint with erratics, including the quoins of the west wall. The tower is circular to the top with single light slit windows and stone dressings and straight heads, with a later Perpendicular window. There has been considerable debate about the date of the tower and the church.
The architect who undertook the restoration in the late C19 and (reproduced in The Round Tower September 2014) agrees with Stephen Hart in his article that the tower was built onto an earlier – probably C11 church with a Norman west doorway which was modified and comprises two separate arches. The building of the tower required new doorways, to the north and south. Their form suggests C13 or early C14 work, and thereby provide a date for the tower. The chancel has a circular apse. There is a C16 chantry chapel. Font with intricate carving.
Fine Kempe tomb, from early 1600s. In The Round Tower (September 2007) Richard Barham talks about the interior of the church. A curious structure in the churchyard aroused some interest as Stuart Bowell noted  in The Round Tower (March 2008).