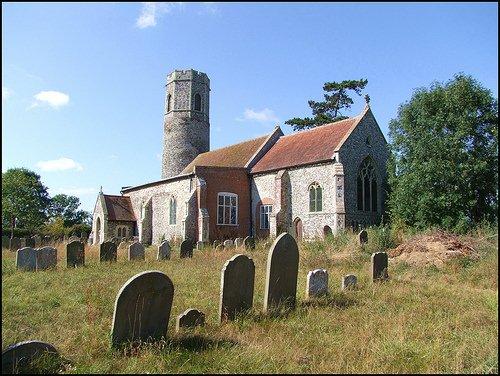 One of the tallest round towers: circular for about three-quarters of its height and with an octagonal top with stone corners and what were two-light belfry windows.
Built of well-coursed flint that gets smaller and less well-coursed at higher levels and with occasional medieval bricks. There are flint surrounds to some of the windows and fillets between the tower and the nave.
The flints in the north and west walls of the nave are similar to those in the tower suggesting, argues Stephen Hart, that they are of the same build: Caen stone quoins suggests Norman build and the use of flint window surrounds (a Saxon technique) suggesting an early C12 date.
A number of changes were made in C14, including the top of the tower (upper circular and octagonal section), changes to the tower arch which is now tall and pointed, addition of the Galilee porch, and rebuilding of chancel with its dado of flushwork, south arcade and aisle, a transept or chapel whose archway is now blocked with brick and piscine. The porch is Victorian.
The church was saved by local people when it was threatened with closure. Jack Sterry 'visits' Mutford in his 2005 book Round Tower Churches on the Norfolk and Suffolk Border.