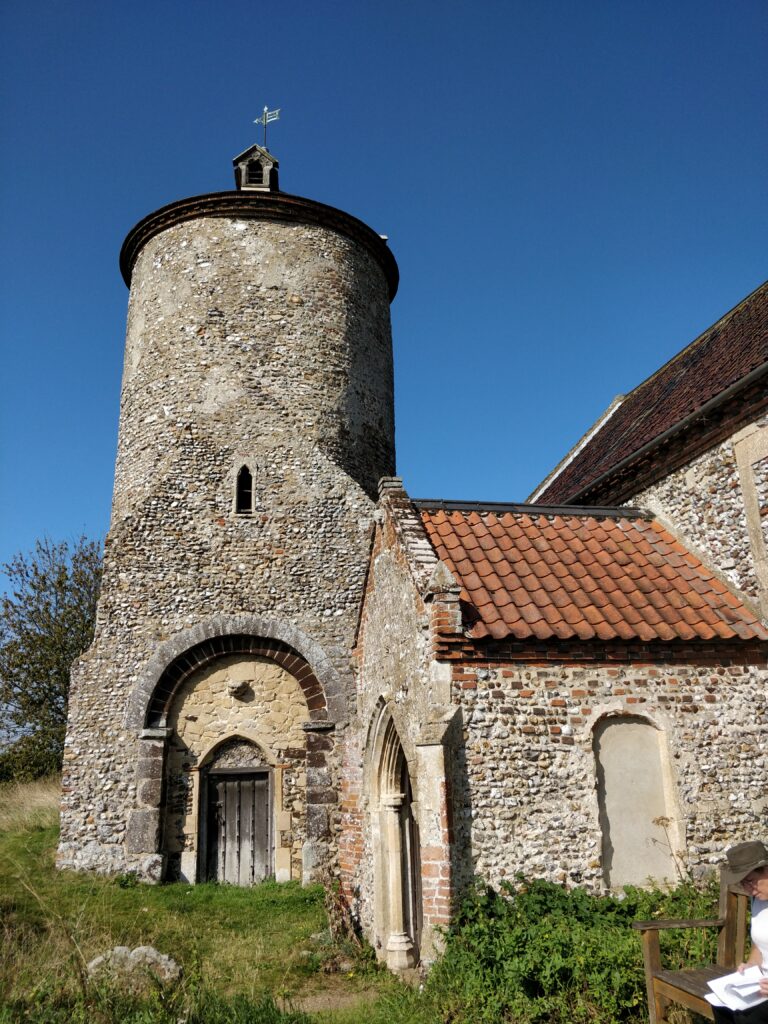 St Andrew, Little Snoring
To the north of the village and A148 Fakenham to Cromer Road, the church is on higher ground above a stream. 
The tower stands apart from the church. Joseph Biddulph (The Round Tower (June 2014) and Jenny Gladstone (in the Sept issue) describe the church.
The lower part of the tower is probably Saxon, built with a great deal of Iron Bound Conglomerate (IBC) with some large blocks, and a double herringbone band. The character of the flintwork changes just above half way. The only evidence of belfry openings is in the lower part of the tower in the form of small limestone trefoiled lancets.
There is a blocked opening low down on the west side of the tower with a triangular head, adding to evidence of a pre-Conquest date. Use of limestone suggests that the upper section of the tower has been rebuilt.
Stephen Hart (The Round Tower, Sept 1996) suggested that an earlier belfry has been replaced by the present upper stage and conical roof, possibly about 1800. The round headed tower arch (6'9" wide, 11ft tall) once lead into the nave of a now vanished church. The arch is built of IBC with some large blocks.
The church stands to the north of the tower, having been rebuilt slightly higher up the slope. The walls of the church are of whole flints, early bricks and IBC with some dressed stone facings, and the western IBC quoins rest on limestone quoins.
Jenny Gladstone discusses the rebuilding using materials from the earlier church and suggests that the original church was pulled down at the same time as the new one was built, resulting in limestone and brick which was at the 'top' of the old church ending up at the 'bottom' of the new one.
The Norman north door in the nave has been blocked. The south door, under a later porch, has a round arched Norman doorway, with a pointed arch with chevrons and a horseshoe shaped outer arch. When the Norman doorway was moved from the old church to the new its shape was changed in line with Early English style prevalent in late C12 or possibly early C13. The windows are from all periods from Norman, Early English (including triple lancet of the eastern window), Decorated to Perpendicular.
The church is plain inside, with a round Norman font with finely carved vine of life pattern, a rare Royal Arms of James II dated 1686 above the south door, and four boards from nearby WWII RAF airfield at the west end of the church detail sorties made by crew. 
Jack Sterry visits Little Snoring in his 2003 book: Round Tower Churches: Hidden Treasures of North Norfolk.