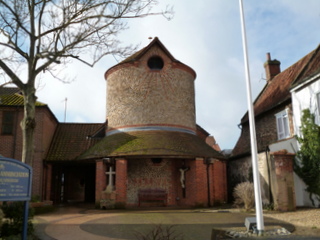 Walsingham and round towers
The remains of a round tower church are detectable from aerial photographs, about 200 metres north-north-west of St Peter's church, Great Walsingham.
The rough outline of the church can be detected in a pastured field adjacent to Westgate Farm from which Richard Harbord has produced a plan (see right).
A cushion capital from the site suggests that there was Norman work in the church. There is a great deal of stonework in nearby buildings which could have come from the church or from other buildings demolished as a result of the Reformation.
Richard Harbord examines some of the documentary evidence about All Saints in The Round Tower (March 2010).
The nearby St Peter's church was begun in about 1320. As a result of the Reformation both churches lost their patron, the nearby Abbey at Walsingham, and it was probably at this time that All Saints went into decline. Substantial ruins were seen in the field in 1870.
There is a modern (2006) round church in nearby Little Walsingham. With thanks to Trevor Ashwin for the enhanced aerial photograph.