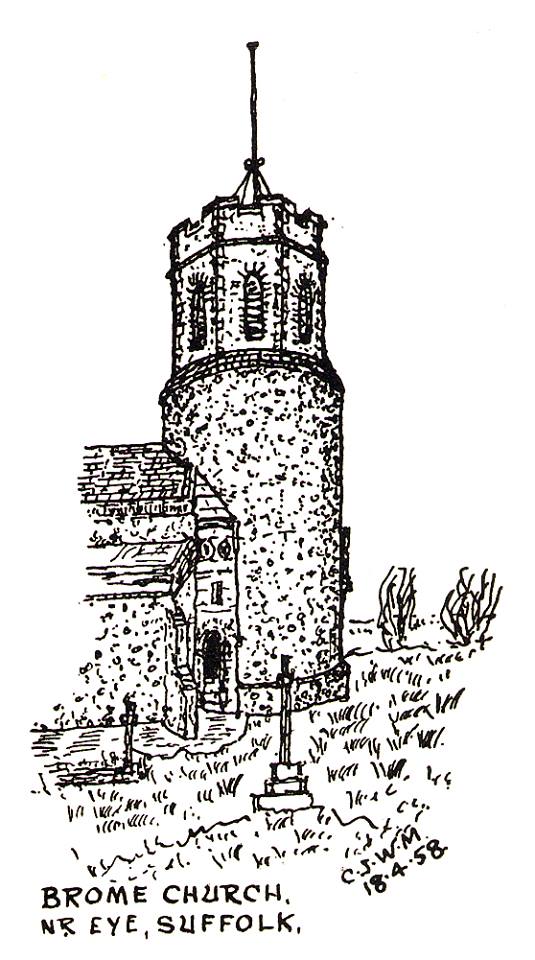 An elephant is the latest surprising feature on top of this round tower church. When the £12,000 restoration was completed at St Mary's Church,  special permission was given to allow the builders to leave their trademark design, a small lead elephant on the tower's protective covering.
A grant by the Society of £4,000, with half from the Stan Barnes legacy, enabled the roof to be repaired with traditional materials. This will safeguard the tower for many years into the future, said the architect David Whymark, who has been helping the church for the last 20 years or so.
A combination of factors led to severe problems for tower and church. First, the lead roof was being effectively dissolved by a chemical reaction forming lead salts. Apparently, when the lead had been laid on the original oak boards,tannic acid leached and started this chemical reaction. The solution, to coin a phrase, involving installing a softwood platform to keep the oak boards and new lead roof apart.
Further, one of the two outlets on the tower was unblocked and re-opened to allow water to be thrown clear of the tower and stop it falling on the nave roof. The gargoyles, actually Victorian – and almost identical to those at Horley church – have also been given longer lead tongues which will keep water off the tower.
Mr Whymark, of Polstead Heath, in south Suffolk, who looks after about 125 churches from north London for the Diocese of Chelmsford and into north Suffolk, said that there had been problems with the tower's roof since about 2006.
Specialists in leadwork, Bayes Roofing, of Cockfield, near Bury St Edmunds, were given special permission to place their hallmark symbol, an elephant, on the replacement lead roof by the parochial church council. The four fixings are the cardinal points of the compass.
The treasurer, Anthea Atha, was delighted with the Society's donation. She said that it is hoped to revive the Friends of St Mary's, which had lapsed some years ago. Four of the six parishes in the benefice have a Friends' group, including two which were especially active. She hoped that it might be possible to build on strong local support, which included a monthly community lunch attracting an attendance of some 50 from the village. In addition, regular coffee mornings were also popular and the village hall was also supported too.
The Society's 2019 summer tour started at Brome in May.
Extract from The Round Tower magazine, December 2019.