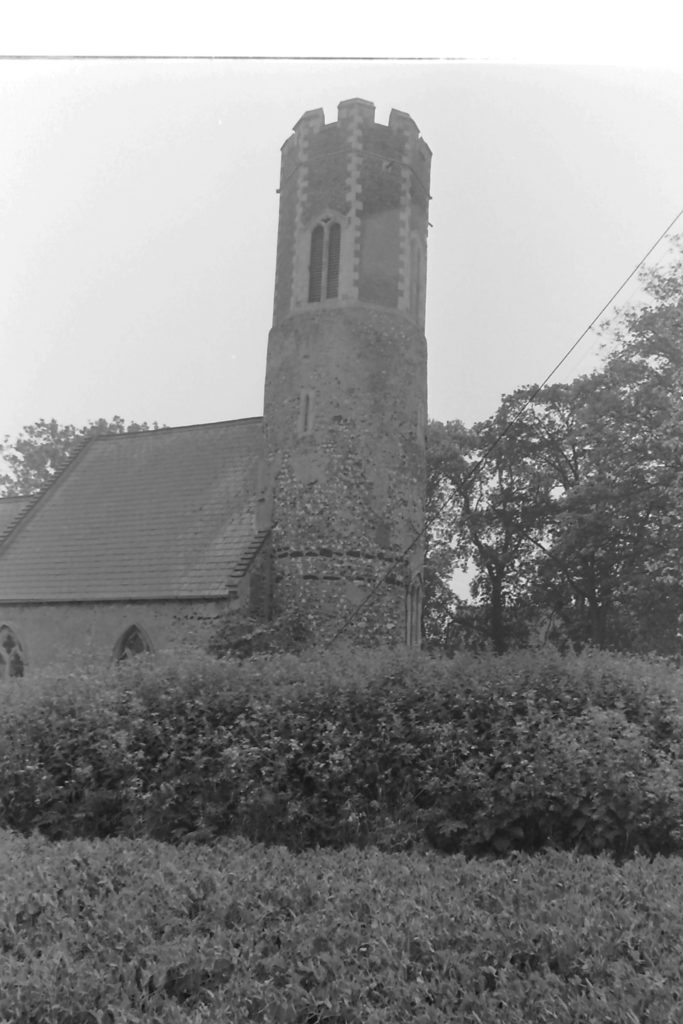 The lower part of the tower is flint with three lancet windows at first-floor level.
As the windows are very low and small for belfry openings, in this article on Brampton,  Stephen Hart argues that the present octagonal belfry is probably a replacement of an earlier one. Medieval brickwork and a stone weathercourse in the tower east wall indicate that the circular stage is likely to be of post-Conquest date and, if the lancet windows were later insertions, probably Norman. 
The belfry is unique being built completely in brick with dressed stone quoins at the angles which are of equal height and regular size. The rhythmic alternation of these quoins and the visual contrast with the red brick walls create an almost classical architectural effect, suggesting that the belfry is probably C16th or even early C17th.
The two-light belfry window pattern – simple, uncusped Y-form under a four-centred arch – is typical of 16th century late Gothic.
The tower arch is not central within the tower which was probably added to a towerless nave.
Reused Roman materials in the quoins at its north-west corner suggest an 11th century date for the nave but the north-east nave wall differs in thickness and in its exterior flintwork. The original nave was probably about 13ft 6ins.
The chancel is not in line with the tower, with different fabric and thinner walls than the nave, and is probably not the original one. It was probably completely rebuilt in C14th, together with a southward widening of the nave, and a south-east chapel, now demolished and the tower arch widened southwards to bring it into better alignment with the wide chancel. There are some fine brasses (see photo above) in the chancel.
Jack Sterry features Brampton in his 2010 book Round Tower Churches in Mid Norfolk, North Norfolk and Suffolk.