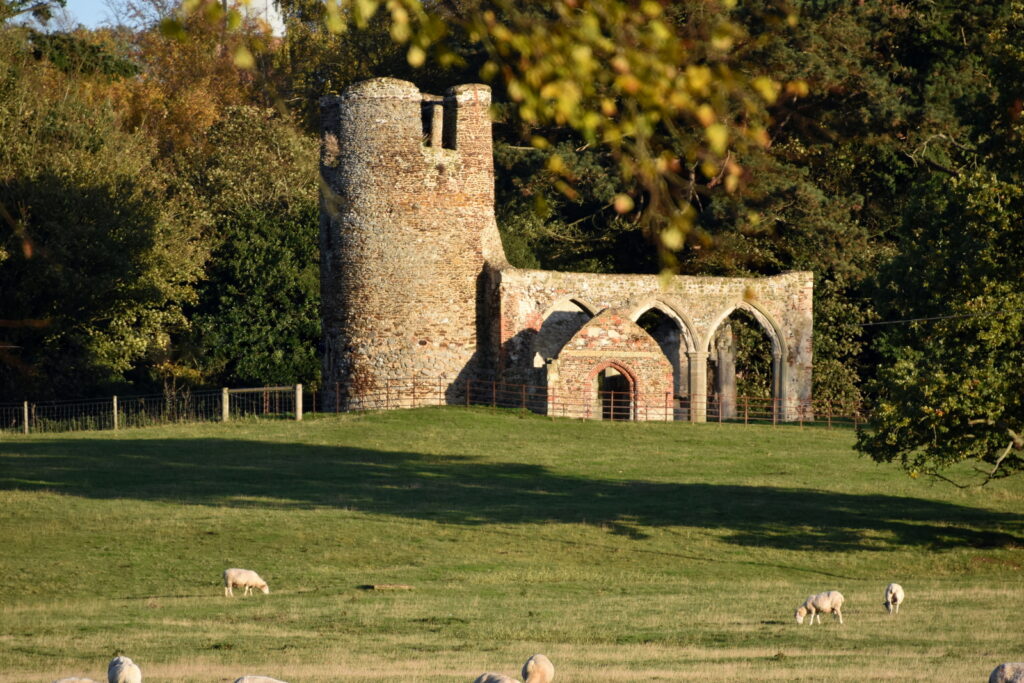 The church is a ruin but many of its features can be appreciated from the road at the north side. 
The round tower and the tower arch are still visible, as well as a short nave and south porch. In  The Round Tower (September 2009) Richard Harbord suggests that the tower is Norman and as well as carrstone, may contain materials from a nearby Roman villa. It seems to have been added to an earlier church.
Three members of the Paston family were buried here in late C17, but the lead roof was stripped from the nave and porch and quickly fell into decay. By the 1770s the building was occupied by livestock. Conservation works were undertaken in 2008 and again in 2016 (photos on right).
From the (Eastern) Evening News, Saturday, July 25, 1931 by CJM Messent. The ruined churches of Norfolk.
Appleton – Eight miles north-east by east from King's Lynn. The Church of St Mary has been a ruin since 1707, when the hall was burnt down and the famous Paston family left the place. The round tower, the walls of the nave and part of the south porch are all that remains. A tomb of Agnes Paston is preserved inside the ruin.
Although this church is ruined, it is not being desecrated, as the churchyard is completely railed in, and every care is being taken that decay is not hastened in any way. This is an example which should be followed by every parish where a ruined church exists. The living is a discharged vicarage of a yearly value of £8 only, and is in the gift of his Majesty the King. It is consolidated with the rectory of Sandringham.