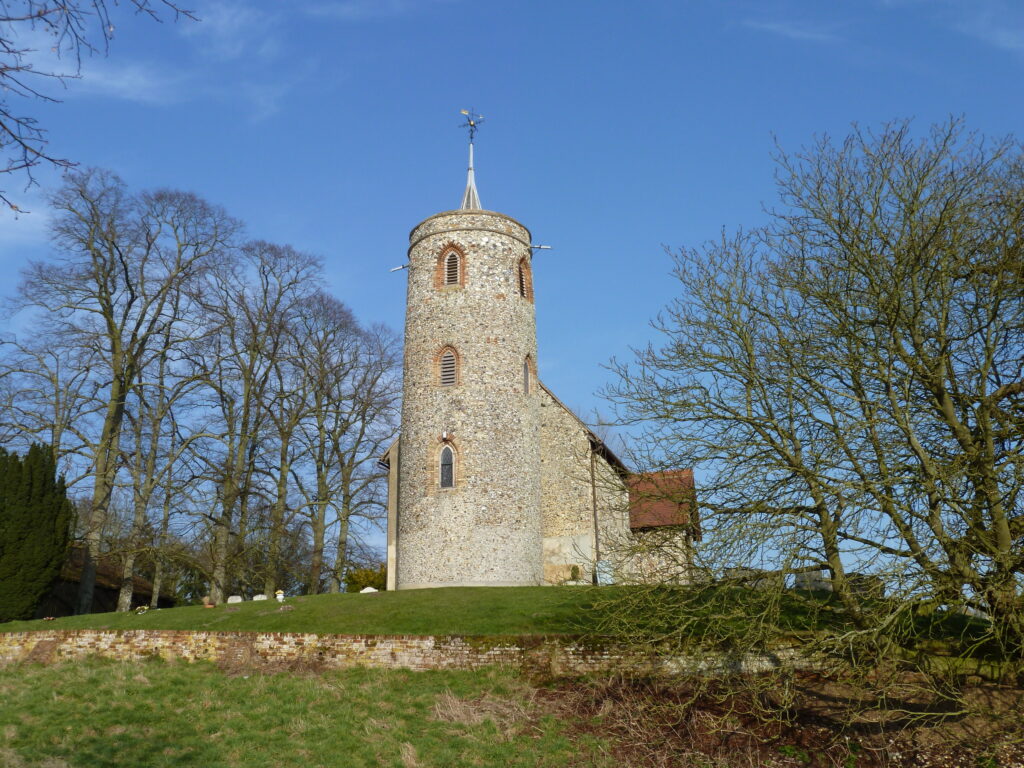 The Victorian 'rescue' of the "ruinous" church of St Mary
When the new rector of a Suffolk round tower church arrived in 1881, he took over what was "a thorough ruin," writes Sue Andrews.
He devoted five years to restoring the 14th century church, St Mary's, Aldham, which was transformed under his stewardship.
The Rev Dacre Barrett-Lennard faced a formidable task – the top of the tower was badly cracked, roof tiles were falling like confetti and timbers were crumbling. The interior was in an equally deplorable state – he could push his umbrella tip through the south wall!
 The nave, chancel and round tower probably dated from around 1350. The nave roof was not sound and decayed stone and leadwork could not keep out the rain. An inadequate heating system and lack of seating added to his headaches. In July 1881, he outlined plans at a vestry meeting – the roof, nave walls and tower were the first priority.
Almost a century earlier, the church had faced similar problems. The south side was about to collapse in 1769 and local landowners refused to meet the restoration cost.
So, the incumbent rector, the Rev Nathaniel Torriano (obit 1772) was given permission to sell two of the three bells. This paid for patching the walls and two large ugly brick buttresses.
When the Rev Charles William Lloyd (obit 1880) became rector in 1848, rabbits had burrowed into the walls, pews were worm-eaten and moths had damaged the altar cloth. Then, the parish had a population of 307 but St Mary's only attracted 50 to Sunday service while 70 went to the village's congregational chapel.
He had the long-empty rectory rebuilt as a family home – after decades of absentee rectors. Inside the church, he paid for most of the improvements including a new heating system, harmonium and deal benches. The fabric was left untouched.
This was the position when the Rev Barrett-Lennard arrived.  He wrote to William Milner Fawcett (1832-1908), surveyor to Ely diocese in which Aldham then lay, who realised that St Mary was "almost as ruinous as a building still in use could be."
Bearing in mind that this was a poor parish, Fawcett incorporated into his plan re-use of available materials wherever possible but his proposals would have to be delayed until enough funds could be raised. In November, when many tiles were again liberated from the roof, Fawcett was consulted for a second time.  He considered that the roof was unsafe and likely to fall so advised shoring up at once.  
At the harvest thanksgiving of 1882, everyday mottos and biblical verses were displayed on the walls in an attempt to cover cracks while sheaves of corn decorated scaffolding supporting the roof.  A large number of people crammed into the church and late-comers stood either in the porch or outside in the churchyard to hear the rector read the lessons and prayers and the rural dean sermonised. 
By December that year, sufficient money had been raised to allow advertisements to be placed in local papers calling for builders to tender. In January 1883, the submission from William Everett (1820-1896), builder and carpenter of Hadleigh, was accepted: he signed the contract in March and work started in June. 
The rector's goal was to have a church "safe, water tight and restored to something of its original beauty," which was achieved by Everett and his men under the guidance of Fawcett.  The roof was replaced by a pitch-pine reproduction and reusable tiles were retained for the roof ridge.  
On the south side, the nave wall and its buttresses were disassembled so that flints and bricks could be retained for the new wall constructed with early-Decorated lancet windows and a stone doorway.   On the north wall, only small areas of weakness needed attention and the doorway was unblocked to receive a new oak door.  
Work on the tower meant Everett's men reduced it by two-thirds, which left about 20ft (6m) of original flint and mortar.  Rubble was picked over to reclaim building materials and the tower was re-erected to its original height and was given a lead-covered spire to carry off rainwater.  The tower floor was re-laid and the bell rehung.
In his plan, Fawcett included a chancel arch and external buttressing to the wall between nave and chancel.  Later, a simple terracotta cross was placed on the gable end.  New leadwork and glass were fitted to the nave windows. 
As it was less than 30 years since a previous rector, the Rev Lloyd had provided seats for the nave, it was felt that these benches would be sufficient until the building could be re-seated throughout. In the meanwhile, they were mended, painted or stained and varnished to provide 150 sittings for a population now only 238. 
Other furniture was restored: the double-decker pulpit was reduced to one deck owing to a woodworm infestation and pieces of a 15th century lectern found in the tower were reworked to be incorporated into a new lectern.  
In early 1884 services were restored but July 17 was to be official re-opening. Services of thanksgiving were held at 3pm and 7pm – and the bright interior could be seen without visual distractions. A 14-strong clerical party including the archdeacon and rural dean was present and music was provided by members of Hadleigh Choral Society.  Between the services, Sarah Barrett-Lennard, the rector's wife, held a garden party at the rectory.
In October 1885, two more services were held on similar lines. Eventually, the Rev Barrett-Lennard was able to pay contractor Everett for his last work on louvre-windows for the tower and a new porch over the south door, which was considered a great improvement as oak doors provided closure.  
The rector was now able to declare that St Mary was sound, in decent order and a safe place to enter.
The main sources for this essay were accessed via British Newspaper Archive:  Bury and Norwich Post, 30 October 1883.  24 June 1884.  Ipswich Journal, 13 & 20 August, 11 October, 8 November 1881. 19 August, 17 October, 9 December 1882.  9 June 1883.  29 March, 5 April, 12 & 19 July 1884.  17 & 24 October 1885.
Endnote:  W.J. Goode. Round Tower Churches of South-East England (1994), p.159 dates the tower between 900 to 1000.  S. Hart, The Round Church Towers of England (2003), p.59 suggests that the tower was erected in three stages: 14th to 15th century, 17th to 18th century and probably 19th century.
Further note: The Rev Dacre Barrett-Lennard's family had been lords of the manor of Horsford for 33 generations and since the Norman Conquest. All Saints Church, Horsford, north of Norwich airport, has a fine memorial erected by the family.