Five grants worth a total of £12,000 have been made towards repairs of distinctive round tower churches. In the first awards for 2019, the society's committee considered the latest applications for grants.
Recommendations by grants' officer, Nick Wiggin, were accepted and the following were made: £4,000 to St Peter's, Haveringland, near Norwich, which needs to raise £19,000 for repairs to the tower including re-pointing and replacing stone, flint and brickwork. The work is scheduled to start this summer and a request for funding was made last December. As members were reminded, the last award to St Peter's was £70 in 2002.
£4,000 to St Mary's Church, Brome. This will help towards the £20,340 cost of repairing the tower roof. The society's last award to the church was £500 in 2005.
Incidentally, the society will visit Brome on Saturday, May 11 when it starts its summer season of guided church tours.
As the society's funds have been boosted, the committee topped up some other recent awards. It pledged a further £1,000 to St Margaret's Church, Syleham. It awarded £1,000 in September last year.
It also agreed to offer £2,000 to St Peter & St Paul Church at Tuttington, near Aylsham, which needs to raise significant sums for repairs plus another £1,000 to St Mary's, Burnham Deepdale.
Stuart Bowell, chairman, will brief members at the society's annual meeting at Weybread, on Saturday, May 11 (2.15pm).
The society starts its guided tours in the Waveney Valley earlier that day at Brome, 10am. Anyone who is interested in learning more about round tower churches will be welcome to join the free tours.
---
Round Tower Churches Society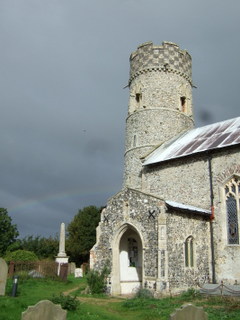 Churches with round towers are unusual: they are found mostly in East Anglia. The Round Tower Churches Society (RTCS) was established in 1973 to help preserve these churches and to explore their origins and history. In its 40 years the Society has made grants of over £150,000 enabling us to support many of the English round tower churches.
Support the Society and enable us to continue to provide grants for these churches. Join yourself or give a year's membership to a friend- go to Society. For information about recent grants and work in churches visit Grants. 
The Society publishes a quarterly magazine, organises visits to round tower churches in the summer months and sets up occasional study days.
Information about the 2019 tours is now available.
It is sent to members in The Round Tower by March 2019. The first tour is on Saturday May 11th.  The tour starts at 10am at Brome and is followed at 2.15 by AGM at Weybread. For more information about 2019 tours see tours and events page.  Information about 2013, 2014, 2015, 2016 & 2017 Tours is in Archive 
---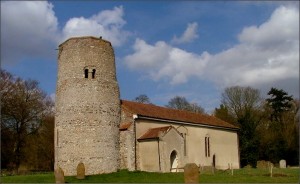 The Round Tower is the Society's quarterly Magazine. Copies are available on line a year after they are published. Copies of The Round Tower for Dec 2007, and from 2008 to 2017 are available to download. Go to The Round Tower The March 2018 edition is now available online. It includes an article on Round Towers and Scratch Dials by Dave Betterton; Remembering 70 years at RAF Swannington 1944-1947; Roy Tricker MEB; Summer Tours 2017 Part 2 (of 3) by Stuart Bowell; General Data Protection Regulation (GDPR).  Go to The Round Tower 
---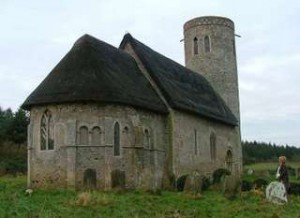 Stephen Hart, a leading authority on round tower churches, long time member and supporter of the Society and author of several books on church architecture died in 2014. For RTCS obituary and information go to Society News. Some of Stephen's analyses are being uploaded onto the website see Listing Round Tower Churches. They include: Beachamwell, Beeston St Lawrence, Bexwell, East Lexham, Fishley, Fritton St Edmunds, Gayton Thorpe, Haddiscoe, Heckingham, Herringfleet, Morningthorpe, Potter Heigham, Thorpe next Haddiscoe, Welborne and many more . . . including Hales, above, a favourite with many people. 
Grants and Support for churches 2017-2018
RTCS paid out two grants: £500 each to Haddiscoe and to Wissett for work completed in summer 2017. RTCS have promised support for eight other churches totalling £12,500. Some churches have begun their schemes. Herringfleet church is sheathed in plastic with a top hat of corrugated iron while work continues to repair plasterwork and to redecorate and re-lead and conserve the glazing in three windows. At Sustead work on Chancel roof is nearly finished. Threxton is replacing the chancel ceiling. The work at Swainsthorpe is underway and is expected to finish before Christmas.
In addition RTCS supported the work of 'Raise the Alarm' to the tune of £2500 to install alarms on some of vulnerable Norfolk round tower churches. Donations were also made to the churches visited by the Society. In 2017-2018 this amounted to £735.
Raise the Alarm Campaign
The Roof Alarm Scheme was set up in August 2017. Over £250,000 has been allocated to install alarms in churches considered to be particularly vulnerable. The money has been raised from Norfolk Churches Trust, Allchurches Trust and the Round Tower Churches Society working together with the Bishop of Norwich and Police and Crime Commissioner for Norfolk.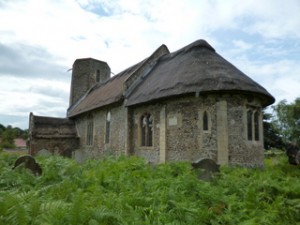 Hales and Heckingham thatched churches appeal
Birds making their nests have removed thatch reeds from the roofs of these churches. This has left gaps for the weather to get in.
Churches Conservation Trust who have care of these churches are gathering funds to make the repairs which will be undertaken by Nick Walker, a local thatcher. CCT are nearly halfway to reaching their target.
To make a contribution go to the Churches Conservation Trust
Herringfleet
Repairs to stained glass of East Window  of St Margaret Herringfleet. Photo shows Architect Gethin Harvey, and Herringfleet PCC visiting
Terry Devlin's workshop.
Bob Mitchell visited Herringfleet at the end of December 2018 and posted some photographs.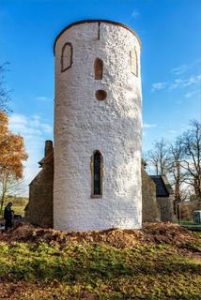 West Lexham
: scaffolding round the tower has come down
revealing a gleaming white tower with features revealed. 
Roy Tricker 

Congratulations to Roy Tricker on being awarded the British Empire Medal for services to Heritage in Suffolk. Roy is the author of a recent book Anglicans on High and countless excellent church guidebooks, two of which are illustrated. Roy will also be well known to those who attended RTCS study days for his talks, which manage to combine learning and humour.
News of some churches
Broomfield Parish Church, Essex. People and Stone. A series of lectures and tours to raise funds to restore the spire. At Church Hall. More lectures to follow. 
Feb 16th 2019 2pm Church People- 'Stories in Monuments' by Ros Mercer, Alun Powell and Ruth Siddall, UCL.
April 27th 2pm Church Material- 'A Deep History in Walls' by Ian and Mercer, GeoEssex.
Tickets £5 at the church or email Trudy – Trudy_stevens@outlook.com
Three intrepid photographers braved the snow early in 2018: Wickmere by Jonathan Adams, Gunton by Richard Green and Fishley by Jeremy Dickson, while Michael Cant's photograph shows Lamarsh in spring glory before the snow.
A fine aerial photograph of East Walton in its setting by John Fielding.
Hardley. Bob Mitchell was out with his drone today (July 2nd 2018) and has sent us three wonderful photographs. To see more of his photographs go to http://www.roundtowerchurches.com
Hales and Heckingham thatched churches appeal
St Margaret's Hales and St Gregory's Heckingham are two Churches Conservation Trust churches in Norfolk that share the same problem: the removal of thatch reeds from the roofs by errant birds making their nests has left gaps for the weather to get in. Both churches are tucked away from active communities, but CCT staff have been working with local people to gather funds in order to make the repairs, which are to be carried out by local thatcher Nick Walker. CCT are nearly half way to reaching their target. If you would like to donate to the project, please text 'HALES' or 'HECKHAM' to 70191 to donate £10, or you can donate via visitchurches.org.uk.
The wonderful east window has been removed to prevent further damage from the winter weather. The Twitter page has a photo of work being undertaken on the window.
Thwaite (left) and Merton (middle) had lead stolen from their roofs. RTCS were able to assist with replacement and repairs to the lead at Intwood (right).
Liz Barrett sent us a great photo of Gissing (left). When was it taken? And what were the children doing outside the church? Right – Gissing in the snow.
Lamarsh in Essex (left) and the scaffolding has been removed at East Lexham (centre – great photograph by Jeremy Whigham). At West Lexham (right) render removed from the tower shows the stonework around an early window
---
Many thanks to Clippesby who donated a drawing of the church (left) in thanks for our support for their repairs.
Vandalism at Shrimpling (right):
Call to help stop attacks on historic Norfolk church

---

Threxton have been awarded funding for the development stage of their repair project. RTCS are helping them with a grant.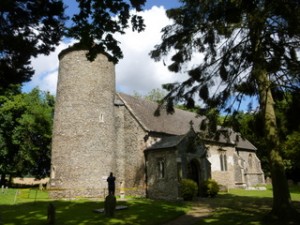 Welborne's Fawlty Tower is no more. The work has been completed and Nick Wiggins, RTCS Grants Officer, attended the rededication service in September 2018. A report on the works will be published in The Round Tower December 2018 edition. For more information about grants and work in churches go to Grants
Bill Goode's archive is currently held at Lowestoft but is to move soon to Ipswich.
HLF Heritage Lottery Fund. HFL are consulting about the future of their funding. The amount of money they have to allocate is getting less as people buy fewer lottery tickets. The ring fenced funding for churches and other places of worship is coming to an end and churches will be competing with other demands for their support. This is a worry for charities such as ours which are concerned with ensuring the upkeep of churches and the important role they play in the life of their local communities.
Photos from the archives.
Three photos sent to RTCS – the first of John Sell Cotman's graphite and wash sketch of Aylmerton (early 1800's) and two paintings of Haddiscoe by Sir John Arnesby Brown (1866 – 1955). The artist lived at Haddiscoe and is buried in the churchyard.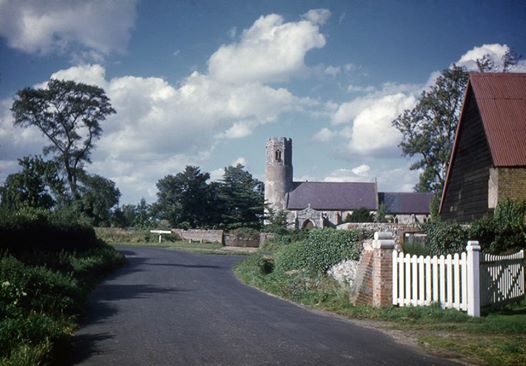 Gisleham church. This photo of Holy Trinity, Gisleham was taken around 1953 by Hardwicke Knight, a famous NZ photographer. Thanks to Dave Murray who lives in NZ. He scanned it from a Kodachrome slide in his collection and placed it on the Round Tower Churches Facebook page.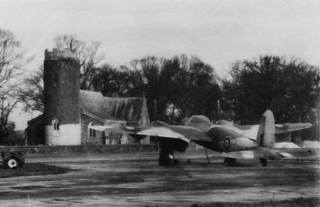 Haveringland church, next to Swannington airfield. The plane is a mosquito. The base of the church has been painted white. For more photos and information go to: http://www.geograph.org.uk/article/RAF-Swannington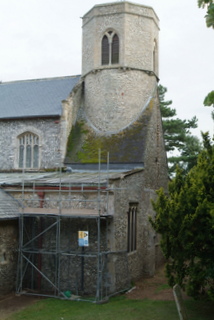 Interesting publications
Digging Sedgeford: A people's archaeology has a fascinating chapter about St Mary's Sedgeford and another – power and piety in Medieval Sedgeford – which considers the evidence for an earlier Saxon church with burials discovered as part of the excavations. Digging Sedgeford is written by the SHARP Team and published by Poppyland Publishing.
Shire Books have recently reprinted: Medieval Church and Churchyard Monuments by Sally Badham. Sally starts her book with the words 'Churches contain much of the most interesting medieval sculpture in Britain'. The book is a delight with great photos.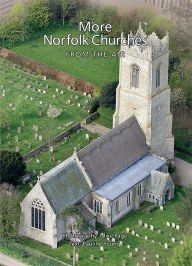 Mike Page and Pauline Young have just published 'More Norfolk Churches from the Air'. This fine collection includes Bessingham, Bradwell and many more Round Tower Churches. All profits from the sale of the book go to cancer charities.
For a great map and information about round tower churches and other religious sites see the Round Tower Churches Map.
---
Patron: HRH The Prince of Wales. Registered charity No 267996