The Society supports round tower churches with grants for repairs and improvements. In 50 years, it has given grants of almost £400,000.
The first grant to Cranwich in August 1974 was £20 – just months after the Society had been founded.
In the past four years, the Society has awarded almost £60,000. In the last 12 months to February 2023 the Society has paid £37,000 in grants for repairs and conservation.
Nick Wiggin, grants' officer, briefed fellow committee members at the March meeting, on progress since February last year. It was agreed to contribute £2,000 to St Andrew, Great Ryburgh, near Fakenham, towards the cost of repointing the north and west elevations of the nave, and repairs to a nave corner. The total cost will be about £20,000.
As work on repairs at St Michael, Geldeston, and St Mary the Virgin, Tasburgh, has started, two grants of £5,000 have been paid.
Mr Wiggin said that letters of thanks had been received from four churches, all dedicated to St Mary, for grants of a total of £10,000 made last December to Wortham, Beachamwell, Snailwell and Bartlow.
Stuart Bowell, chairman, said that Forncett St Peter had thanked the Society for its support on its Facebook page. A £3,000 grant had been made by the Society towards the cost of preparing a Heritage Lottery Fund application.
As confirmed, Forncett has been awarded £33,000 by the HLF for the development phase. It will submit a further request to fund the delivery phase by the late autumn – as reported in the March edition of The Round Tower.
Mr Wiggin said that the Society has awarded a further £37,000 in grants over the past six years, which has not yet been spent. A number of churches needed to raise further funds to fund repair and conservation work.
Norfolk Church Trust grants
Two grants worth a total of £8,000 were made by the Norfolk Churches Trust at the March council meeting.
St Peter's Church, Haveringland, was awarded £5,000 towards the cost of repairing a window. It also awarded £3,000 towards the cost of urgent window repairs to St Nicholas, Bradwell, near Great Yarmouth.
As previously reported, the Norfolk Churches Trust gave £5,000 to St Mary, Beachamwell, and £2,400 to St Michael & All Angels, Stockton, to repair the west end gable.
The Suffolk Historic Churches Trust, which also celebrates its golden jubilee in December, will be making Platinum Jubilee Grants.
The Society's grants
In the year to March 2022, it was £2,500; to March 2021 – £13,200; to March 2020 – £23,500. 
A full report was made at the 48th annual meeting, Saturday, May 7, 2022. The 2021 AGM was held at Ilketshall St Andrew's village hall on Saturday, September 25, 2021.
A full summary of all reports, including financial statement, was published in the September 2021 edition, The Round Tower. This was posted to all members.
Funds for grants come from two main sources:
Subscriptions – about 60pc of members' subscriptions funds grants.
Gifts, donations and bequests – Many members give more than the minimum £20 (£30 joint) subscription – thank you.
A full report was made at the 48th annual meeting, Saturday, May 7, 2022. The 2021 AGM was held at Ilketshall St Andrew's village hall on Saturday, September 25, 2021.
The Society has received generous legacies including £5,000 from Diana and Philip Woodfield, and from Stan Barnes, who died in 2018 and left £78,000.
Brian Harmer's legacy (Obituary, Round Tower, September 2008) was used to supplement grants. A list was reported in the Round Tower, December 2015.
Stephen Hart also left money for repairs to churches as well as photographic and other archive material.
Details of how to make donations ands legacies can be found on the website. The charity's official registration number 267996 can be included in legacy details.
Other donations include – 
A collection of stamps left by Ian Pettman's estate raised £400 for the Society.
To apply for a grant from RTCS, or contact the grants' officer, listed on the committee tab, or download the Grant form.
2022
April – £7,000 to St Andrew, Mutford, for repairs to the tower. This has been paid – and will appear in the March 31, 2023 accounts.
The following grants, a total of £13,500 were paid in the year to March 2021
Haddiscoe £1,000; Acle £3,000; Wickmere £2,500; Burnham Deepdale £2,000, Ilketshall St Margaret £3,000; Aslacton £700 and Great Ryburgh £1,000.
Thanks to the Stan Barnes legacy, half of these awards were met by his generous bequest.
An update of RTCS promises at March 31, 2022                          
Tuttington  £4,000 (Sept 2015).    Haveringland  £4,000 (Feb 2019) Surlingham  £5,000  (Nov 2019) Beachamwell  £3,000 (Aug 2020)                                                  More recent grants                      Brooke £5,000 (May 2021)            Threxton £2,000 (July 2021)        Topcroft £1,000 (Sept 2021)  
Long Stratton £4,000 (Dec 2021 (with £2,000 in March 2022)  Higham  £5,000 (Jan 2022)
Geldeston £5,000 (March 2022)  Rickinghall £4,000 (March 2022)    Total (£26,000)
The Society paid £2,500 to  Breckles and £500 to Stuston in the year to March 2022.
LATEST GRANTS 2021
Awarded, at August 31, 2021 – Total £15,000 (as below)
May – St Peter, Brooke £5,000; All Saints Stuston £500; All Saints, Threxton £2,000.
August – St Andrew, Mutford £6,500 (increased to £7,000); St Margaret, Topcroft £1,000.
LATEST 2020 GRANTS
July – £5,000 was awarded to two round tower churches by the Norfolk Churches Trust. 
St Mary's, Beachamwell, was awarded £3,000 towards re-thatching, It follows the theft of lead from the south aisle in 2019. St Michael, Aslacton, received £2,000 to repair internal cracks in the chancel on the east and south walls. This work will cost about £10,000.
The NCT awarded £12,000 in grants. In total, 21 churches have been given more than £75,000 this year by the NCT.
May – Another £6,500 to carry out pressing repairs for three churches was agreed by the Society's committee.
It awarded St Edmund's Church, Acle, £3,000 towards the costs of thatching. This matches the grant by the Norfolk Churches Trust.
It was agreed that half these proceeds would be funded by the  Stan Barnes bequest.
St Andrew, Great Ryburgh, near Fakenham, £1,000 for window restoration, since completed.
St Andrew, Wickmere, near Aylsham – the front cover of the June 2020 Round Tower  –  received £2,500 to repair the east window.
In March 2020, £6,000 was awarded to St Mary, Haddiscoe (£1,000 for re-fixing lead); St Peter, Theberton (£1,000 towards thatching repairs) and £4,000 for St Peter, Merton.
NORFOLK CHURCHES TRUST AWARDS 
APRIL 2020 – Five round tower churches have received repair grants from the Norfolk Churches Trust. It awarded £65,325 shared between 16 churches across the county including £10,000 to St Peter's, Merton, near Watton.
The other churches receiving a total of £8,500 were St Edmund, Acle; St Andrew, Wickmere; St Mary, Haddiscoe and St Andrew, Great Ryburgh. The grants to round tower churches included £3,000 to St Edmund towards re-thatching the north side of the nave and the ridge. A contribution of £2,500 to the repair and replacement of the central east window at St Andrew's, Wickmere. This panel had to be removed last winter because it had become unsafe.
St Mary, Haddiscoe, was awarded £2,000 to repair lead sheeting on the south side of the nave roof, where slippage has taken place and allowed water ingress. The Society also made a £1,000 grant in March. And £1,000 was given by the Trust to St Andrew's, Great Ryburgh, to re-lead and repair the westernmost south chancel window, a William Wailes window dated 1870. It is one of the 12 remaining windows in the church commissioned by the Tatham family between 1866 and 1883.
The NCT has given a total of £10,000 to St Peter's as it faced an unexpected bill of more than £17,000 for replacing rotting roof timbers.
The church had received about £100,000 last year from the National Lottery Heritage Fund for a zinc roof and to create a centre for heritage activities and to welcome visitors. This work on the nave roof started in late October but as it was nearing completion in mid-January, unexpected major problems came to light. An urgent appeal was made and the Society's committee, which met in early March 2020, approved an immediate grant of £4,000 (with half from the Stan Barnes legacy) and the Norfolk Churches Trust contributed a total of £10,000. Even more fortunately, the Paul Bassam Trust added £2,0000. St Peter's, which was the victim of a major lead theft in 2015, sustained a further theft of lead from the south aisle – hence the decision to replace with zinc. All the work has now been completed although removal of scaffolding has been delayed because of the on-going Covid-19 crisis.
Earlier 2020 grants
Three grants £6,000 were made by the Society in March. A total of £4,000 was given to St Peter's Church, Merton, which needed funds to finish a major building programme.
Two other churches, St Mary's, Haddiscoe, and St Peter's, Theberton, were awarded £1,000 each – to enable roof repairs to be carried out.
There was urgency at St Peter's Church, Merton, near Watton, because additional problems came to light as replacement of the nave roof neared completion. The builders found that timbers supporting the roof and adjoining the tower had to be replaced. This extra work would leave the church with a shortfall of £17,210, so the grant – with half the funds from the Stan Barnes legacy – was agreed.
St Peter's received a National Lottery Heritage Fund grant, as reported in the June 2019, Round Tower, of £100,000. It decided to replace the lead roof with zinc – having twice been a victim of lead thieves in the previous eight years – and  transform the church into a local centre for community and associated activities. In 2015, the south aisle roof was re-roofed with zinc following lead theft. Repairs to stonework were carried out at the same time. A few weeks after the church re-opened, the lead was stolen from the south side of the nave roof. While a tarpaulin protected half of the nave – with passage of time as funds were raised and permissions obtained, it deteriorated.
The two awards of £1,000, each include £500 from the Stan Barnes legacy fund.
At St Mary's, Haddiscoe, it will cost about £4,500 to refix lead sheets on the south side of the nave roof. While the Society has made previous grants, £500 in 2017 and £200 in 2001, this will keep the church watertight.
St Peter's, Theberton, needs to repair and "dress-up" reed thatch, which will cost some £2,400. The thatcher said that this "stitch-in-time" should extend the roof's life by some years. The Society has made grants to this church over the years for various other works including £2,000 in 2013, £500 in 2008 and £500 in 2003. There are looming issues with major repairs to the tower highlighted, which could cost more than £100,000 although no precise investigation has yet been carried out.
LATEST 2019 GRANTS
Two Broadland round tower churches were given £8,000 by the Round Tower Churches Society in December. It gave £5,000 to St Mary's, Surlingham, near Norwich, towards the estimated £140,000 repair programme.
It has a nationally-important ringing mechanism in the 14th century tower, which holds two of Norfolk's oldest bells dating from 1381. These bells were cast by William Dawe, of Norwich, in the year that the 14-year-old King Richard II faced the leaders of the Peasants Revolt in London's Smithfield. Major repairs are need to replace rotten timbers supporting the tower's bell frame, which holds the unusual metal ringing mechanism made by Moore, Holmes & MacKenzie, of Redenhall, near Harleston, in 1889.
The church, which has had a ring of six bells since 1999, also needs work to the flint facing of the round tower, said Derry Kelleher, who has been caring for the church for the past 30 years.
Another church – one of 17 in Norfolk on the latest "heritage at risk" register – was given £3,000 for urgent repairs to the tower roof. St Peter & St Paul, Repps cum Bastwick, near Acle, which needs total repairs of £162,000, will use the latest grant to prevent further serious damage to the tower by fitting replacement water spouts.
Sally Mitchell, who has been a churchwarden for the past 20 years, said that the Society's grant will help to pay for repairs which will throw water away from the tower. However, having been twice turned down for national heritage grants, the medieval church needed to raise significant funds to complete the rest of the conservation works.
The Society, which has also reported a further increase in membership, has now awarded more than £30,000 this year, to help round tower churches.
Work in some round towered churches in 2016 and earlier years.
East Lexham tower was swathed in scaffolding in August 2016.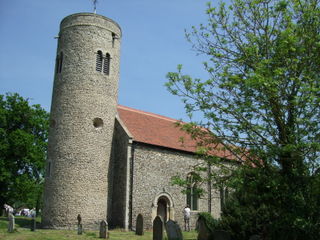 Gissing, St Mary's has received a development grant of £30,500 from the National Lottery Heritage Fund. The grant will allow for investigation and research work as well as the preparation of specifications and drawings to enable them to seek tenders for the works. The project will concentrate on six distinct areas of the church including the south chapel, chancel and round tower. Work started in February 2017.
Appleton church ruins projec
t received £12,500 from FCC Heritage Fund. This was used to stabilise the stonework at St Mary's, Appleton, West Newton, on the Sandringham Estate.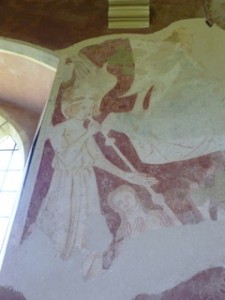 West Somerton: work to make the church water tight is completed and so the churchwardens were in a position to start conservation work of the wall paintings. Unfortunately an application for a grant to conserve the wall paintings was turned down.
Wall painting at West Somerton, pictured left.
Grants and support for churches 2017-2018 £3,500
2017-18 was another quiet year with £500 each to Haddiscoe and to Wissett for work completed in summer 2017.
In addition £2,500 was donated to the support the "Raise the Alarm" campaign in December 2017. This partnership, led by Norfolk's Police & Crime Commissioner Lorne Green, raised £250,000 to install alarms on vulnerable churches. It was also backed by the Diocese of Norwich and the Norfolk Churches Trust and insurance companies.
Churches are also supported with donations when the Society visits them: in 2017-2018 this amounted to £735.
Grants for 2018-2019: to date grants have been promised for Swainsthorpe and East Walton and we have received applications for funding from Syleham and Little Snoring.
RTCS grants to churches in 2016-2017. Total £4,450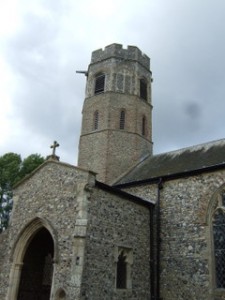 Topcroft. £1500 to help resolve a damp problem at the base of the tower.
West Dereham. £200 to help rewire the church.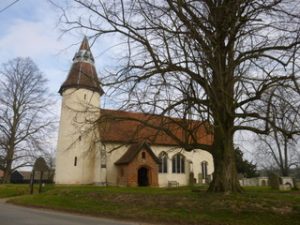 Lamarsh. £2,000 towards removal of old plaster and  replastering parts of the tower.
Intwood. £250 towards refixing of lead flashing to the roof.
Gissing. £500 towards structural repairs to the vestry, and updating the electricity and towards the heating.
Topcroft tower (left) and Lamarsh (right).
RTCS grants paid in 2015-2016. Total £14,000
Ashby £1,000: opening up north doorway for wheelchair access
Barsham £500: window repairs and replastering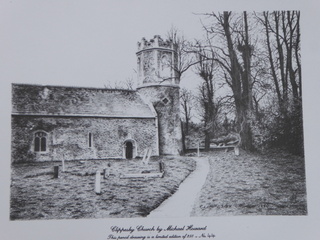 Clippesby £2,000: tower and masonry repairs, new rainwater goods. For great photos go to: http://www.clippesbychurchandcountryside.co.uk/hlf-action/4583691201 In thanks for the Society's support, we were given a recent drawing of the church
Fritton St Edmund £500: rethatching N Nave roof
Matlaske £500: roof repairs
Mautby £500: new lighting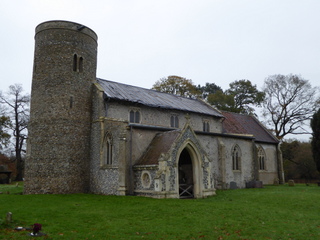 Merton £500: lead roof replacement. Merton lost the lead on its roof in August 2015, only four years after the last theft. RTCS sent £500 and to help kickstart their bids for funds to repair the roof.
Ramsholt £2,000: for tower repairs
Sedgeford £2,000 South transept roof and floor repairs
Syderstone £2,000: repairs to roof and bell chamber tracery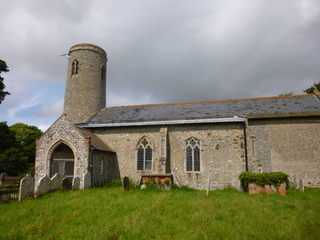 Thwaite £500: replacement of stolen lead from roof of south aisle.
Welborne £2,000: tower and stonework repairs
RTCS grants paid grants in 2014-2015. £6,500.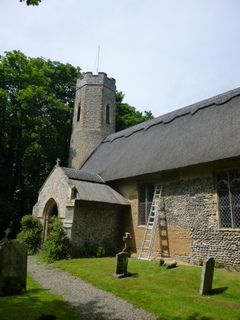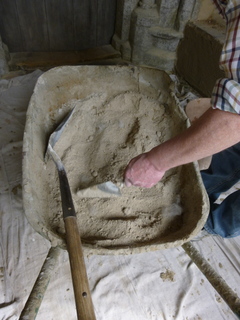 Horsey's repointing underway, mixing the plaster for Little Snoring porch
Horsey:  £1,000 to repoint south wall. Nick and Teresa Wiggin attended a rededication service on behalf of RTCS. Photograph of the work in 2014 (see photo left).
Little Snoring:  £500 new bird screen and plastering in porch (see photo right) 
Hardwick:  £2,000 Renew the roof. Unfortunately it was not possible to see inside the church on our August 2015 visit.
Burgh Castle: £2,000 Roof repairs and drainage work.
Syleham:  £1,000 Work on tower and belfry openings. 
RTCS made grants in 2013-2014. £6,450.
Burnham Deepdale St Mary. £250 towards renovation of chancel roof.
Fritton St Catherine. £2,000 Installation of electricity and lime wash.
Holton St Peter. £1,000. Plaster work and redecoration.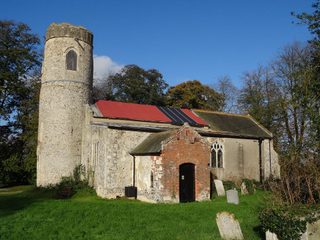 Mettingham All Saints. £500. Belfry west window repair. Photograph after the theft of its lead roof.
Norton Subcourse £200. St Mary. Repair to west gable.
Rockland St Peter £500. Repair of stonework on tower.
Theberton St Peter. £2,000. Plasterwork and redecoration.
RTCS grants to churches in 2012 – 2013 £21,450. 
St. Peter's  Swainsthorpe £3,000 for repairs to tower.
St Edmund's Taverham £1,000 for replacement of pantiles on the north slope of the nave roof,  cracking because of frost
St. Margaret's  Herringfleet  £3,000 to complete new Chancel roof.
Herringfleet's new chancel roof was completed just in time for Christmas Day service in 2012. Photos of the roof and Mr T D Mee's drawing of Herringfleet
St. Mary's Gayton Thorpe £2,000 for repairs to tower roof, new rainwater goods and improved drainage.
Stockton new window and letter of thanks, work under way at Gayton Thorpe
St. Michael and All Angels  Stockton  £2,000 for repairs to East window.
St Peter and Paul's Bardfield Saling £250 towards repairs of windows.
All Saints, Croxton £2,000 towards repointing the tower roof, retiling south aisle roof, and rainwater goods.
All Saints Hemblington £1,000 towards repair of nave roof and rainwater goods.
St Margaret's Syleham £200 towards overhauling gutters and pipes.
St Peter's Yaxham £1,000 towards repair of the east window
St Nicholas' Potter Heigham £2,000 towards new lead roof for nave
St Peter's Brampton £2,000 towards general repairs
Sts Mary and Walstan's Bawburgh £2,000 towards repairs to tower, roof and walls.
£5000 – the largest grant RTCS has made – was a contribution towards the new thatch at St Mary's Cranwich.