One of the main aims of the Round Tower Churches Society is the support of churches through grants for repairs and improvements. In its 40 years the Society is proud to have given grants of over £150,000. The Grants Officer reports on grants promised and paid out to the Society's AGM and the report is published in the June Round Tower Magazine.
Funds for grants come from two main sources:
Subscriptions- about 60% of members' subscription goes towards grants for churches;
Gifts, donations and bequests– from a variety of sources. Many members give more than the minimum subscription- some much more, thank you to those people. The Society is also fortunate to have been left money. Brian Harmer- a good friend and enthusiast of Round Tower Churches (his obituary can be read in The Round Tower Magazine Sept 2008) left the Society a substantial legacy which has been used to supplement the grants given to churches. A list of the grants made from Brian's legacy is reported in the December 2015 Round Tower Magazine. A recent legacy came from Stephen Hart who left money for repairs and improvements to churches as well as a mass of materials and photographs. Donations given while people are alive has the benefit of enabling people to see the good works their donations have funded. An article in the March 2015 Round Tower Magazine explains how to make donations and legacies Bequests and Donations. 
RTCS is very grateful to the late Ian Pettman and his executors. Ian left his collection of stamps to the Society: their sale raised £400 which we can use to support churches.
The grants the Society can give are necessarily small compared with the huge sums required to replace roofs, deal with crumbling masonry and rising damp etc. But the Society's support and commitment towards a church indicates to other funders- including the 'big' funders such as Heritage Lottery Fund- that churches are valued by their local communities. They also sometimes give heart to the valiant band of fund raisers whose hard work keeps their churches in good repair and ensures their place in their local communities. In 2015 RTCS was able to give some immediate support to Merton church when lead was stolen from their roof.
The RTCS grant form we are told is simple and straightforward compared with many. We try to make a decision fairly quickly, usually at the next quarterly committee meeting. The Grants officer, Nick Wiggin, talks to church wardens as the work is undertaken and often is invited back to a rededication service. In organising the summer tours 'Lyn Stilgoe and Dick Barham try to build into the programme a return to a church whose repairs and improvements the Society has funded. As at Horsey and Stockton in 2014, and Hardwick in 2015 it is a great chance to view the work the Society has helped- in a small way- to support. Sometimes getting the funding in place and completing the work takes several years.
To apply for a grant from RTCS, download the Grant form.
Work in some round towered churches
East Lexham tower was swathed in scaffolding in August 2016. The work is now complete and the scaffolding has gone.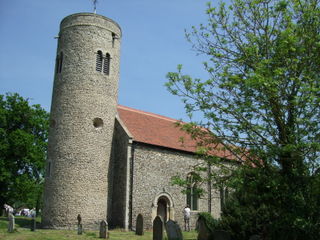 Gissing, St Mary's has received a development grant of £30,500 from the Heritage Lottery Fund. They can now progress their plans for crucial structural and conservation repairs.
The grant will allow for investigation and research work as well as the preparation of specifications and drawings to enable them to seek tenders for the works.The project will concentrate on six distinct areas of the church including the south chapel, chancel and round tower. Work started on February 27th 2017.
---
Appleton church ruins project received £12,500 from FCC Heritage Fund. This was used to stabilise the stonework at St Mary's Appleton, in West Newton, close to Sandringham Estate.
---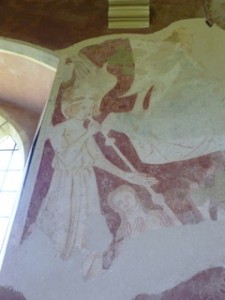 West Somerton: work to make the church water tight is completed and so the churchwardens were in a position to start conservation work of the wall paintings. Unfortunately their application for a grant for conservation of wall paintings was turned down. The church has now been added to Buildings at Rick Register which they hope will help in their attempts to raise funding for the conservation of the wall paintings.
Wall painting at West Somerton
Grants and Support for churches 2017-2018 £3500
2017-18 was another quiet year with £500 each to Haddiscoe and to Wissett for work completed in summer 2017. However, RTCS have promised support for eight more churches (Stanford, Tuttington, East Lexham, Burnham Deepdale, Sustead, Threxton, West Lexham and Herringfleet).
Some churches have begun their schemes. Herringfleet church is sheathed in plastic with a top hat of corrugated iron while work continues to repair plasterwork and to redecorate and re-lead and conserve the glazing in three windows. At Sustead work on Chancel roof is nearly finished. West Lexham had a 'hard hat' day on Saturday 7th July when craftsmen were on site to speak to visitors. Threxton is replacing the chancel ceiling.
In addition a grant of £2500 was paid to support the work of 'Raise the Alarm'. Through this partnership, over £250,000 will be spent installing alarms on a number of vulnerable Norfolk churches including round tower churches.
Churches are also supported with donations when the Society visits them: in 2017-2018 this amounted to £735.
Grants for 2018-2019: to date grants have been promised for Swainsthorpe and East Walton and we have received applications for funding from Syleham and Little Snoring.
RTCS grants paid to churches in 2016-2017. Total £4450
There are also outstanding promises of over £8000 to churches where work has yet to start.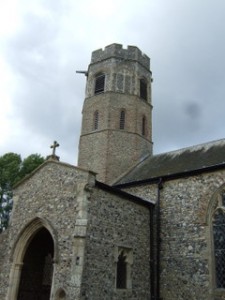 Topcroft. £1500 to help resolve a damp problem at the base of the tower.
West Dereham. £200 to help rewire the church.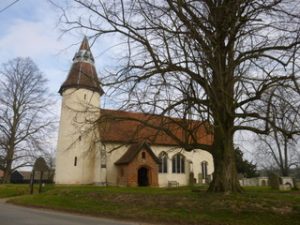 Lamarsh. £2000 to help with the removal of old plaster and then to replaster large parts of the tower.
Intwood. £250 to help with the refixing of lead flashing to the roof.
Gissing. £500 to help with major structural repairs to the vestry and update the electrics and to install heating.
Topcroft tower (left) and Lamarsh (right).
RTCS Grants paid to churches in 2015-2016. Total £14,000
Ashby £1000: opening up north doorway for wheelchair access
Barsham £500: window repairs and replastering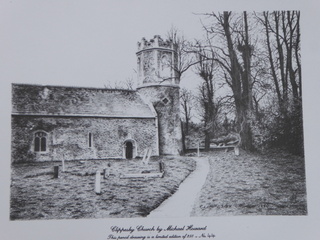 Clippesby £2000: tower and masonry repairs, new rainwater goods. Church was kept open while the work is done. For an update and some great photos go to: http://www.clippesbychurchandcountryside.co.uk/hlf-action/4583691201 In thanks for the Society's support, we were given a recent drawing of the church
Fritton St Edmund £500: rethatching N Nave roof
Matlaske £500: roof repairs
Mautby £500: new lighting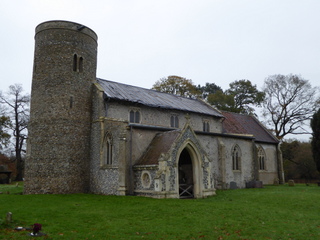 Merton £500: lead roof replacement. Merton lost the lead on its roof in August 2015, only four years after the last theft. RTCS sent £500 towards immediate costs and to help kickstart their bids for funds to repair the roof. Link for EDP article is: http://www.edp24.co.uk/news/norfolk_church_ravaged_by_lead_thieves_gets_first_grant_to_help_rebuild_1_4212291
Ramsholt £2000: extensive tower repairs
Sedgeford £2000 South transept roof and floor repairs
Syderstone £2000: repairs to roof and bell chamber tracery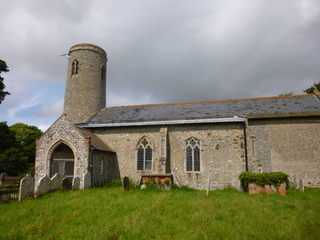 Thwaite £500: replacement of stolen lead from roof of south aisle. EDP announced the setting up of a fund to stop the gangs stripping East Anglia's churches of lead. The fund is to act as a reward for information leading to arrest and conviction of these criminals.
Welborne £2000: tower and stonework repairs
RTCS grants paid to churches in 2014-2015.
RTCS paid out a total of £6500 but made many more promises.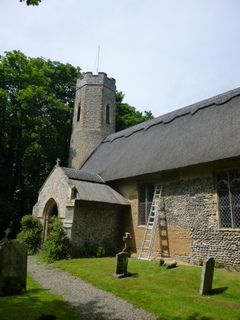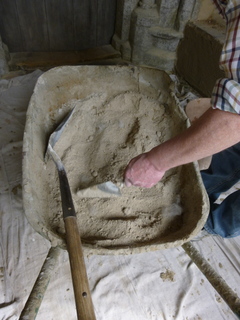 Horsey's repointing underway, mixing the plaster for Little Snoring porch
Horsey:  £1000 to repoint south wall. Nick and Teresa Wiggin attended a rededication service on behalf of RTCS. We were able to see the work on 2014 visit (see photo left).
Little Snoring:  £500 new bird screen and plastering in porch (see photo right) 
Hardwick:  £2000 Renew the roof. Unfortunately it was not possible to see inside the church on our August 2015 visit.
Burgh Castle: £2000 Roof repairs and drainage work.
Syleham:  £1000 Work on tower and belfry openings. 
RTCS Grants to churches in 2013-2014.
RTCS gave a total of £6,450 to churches.
£ 250 Burnham Deepdale St Mary. Renovation of chancel roof.
£2000 Fritton St Catherine. Installation of electricity and lime washing.
£1000 Holton St Peter. Plaster work and redecoration.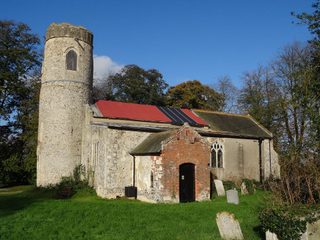 £ 500 Mettingham All Saints. Belfry west window repair. Photo taken after the recent theft of its lead roof.
£ 200 Norton Subcourse St Mary. Repair to west gable.
£ 500 Rockland St Peter St Peter. Repair of stonework on tower.
£2000 Theberton St Peter. Plasterwork and redecoration.
Grants to churches in 2012 – 2013.
RTCS made grants to churches totalling £21,450:
£3000 St. Peter's  Swainsthorpe  for repairs to tower.
£1000 St Edmund's  Taverham  for replacement of the pantiles on the North slope of the Nave roof which were cracking because of frost
£3000 St. Margaret's  Herringfleet  to complete new Chancel roof.
Herringfleet's new chancel roof was completed just in time for Christmas Day service in 2012. Photos of the roof and Mr T D Mee's drawing of Herringfleet
£2000 St. Mary's  Gayton Thorpe  for repairs to tower roof, new rainwater goods and improved drainage.
Stockton new window and letter of thanks, work under way at Gayton Thorpe
£2000 St. Michael and All Angels  Stockton  for repairs to East window.
£250 St Peter and Paul's Bardfield Saling towards repairs of windows.
£2000 All Saints, Croxton towards repointing the tower roof, retiling south aisle roof, and rainwater goods.
£1000 All Saints Hemlington towards repair of nave roof and rainwater goods.
£200 St Margaret's Syleham towards overhauling gutters and pipes.
£1000 St Peter's Yaxham towards repair of the east window
£2000 St Nicholas' Potter Heigham towards new lead roof for nave
£2000 St Peter's Brampton towards general repairs
£2000 Sts Mary and Walstan's Bawburgh towards repairs to tower, roof and walls.
£5000- the largest grant RTCS has made – was a contribution towards the new thatch at St Mary's Cranwich.