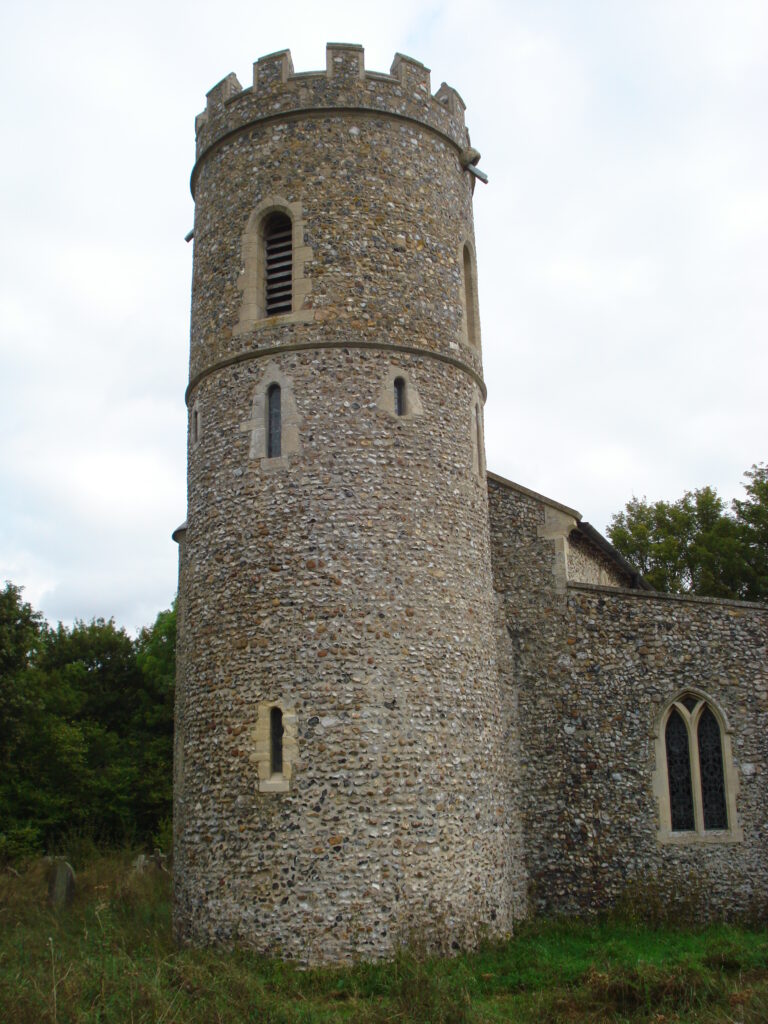 A brief guide for members attending the 47th annual general meeting on September 25, 2021 by the Society's secretary 'Lyn Stilgoe.
Since 1978 this church has been in the care of The Churches Conservation Trust. The tower has 12C origins, but had major restoration work done in 1912, when the top 14 feet were rebuilt and the parapet added.
Until 1830 it was a taller tower with an octagonal belfry, which had been added in the 14C. Below the string course are six round-headed stone framed, narrow windows, with slightly taller ones facing N, W and S, with shorter ones between. There could be a blocked one facing NE, but this is where the 1912 stair turret is.
These are at the level of the upper doorway, and could not have been belfry openings. There is also a small window facing west, lower down. The north side of the church has two 14C traceried windows, but also some late 13C cusped lancets (top row, two in nave, one in chancel) and some 12C plain narrow windows (renewed, one each in nave and chancel).
The chancel east window has 13C intersecting Y tracery. The aisle was added in 13C, and has Y tracery windows. It is as long as the whole church as it also overlaps the chancel, with a series of small clerestory windows above in both nave and chancel. The porch was rebuilt in 1871, but still has a chequer pattern of stone and black cut flints for part of its faҫade.
The window just inside the south door is filled with fragments of 15C glass. The aisle's east window has two heraldic shields.
The font is early 13C, with a square tapering bowl and a broad-fluted pattern on the sides, except the east which is zig-zag. Nearby are four 15C bench ends with animals. The tower arch is wide with a round head and stoned-framed, dating from the 12C. Above it is a narrower, smaller, but similar opening, for the upper doorway.
The tower arch is filled with a screen of 17C carved wooden panels. In the north-west corner is a small door to access the tower stairs added in 1912.
There are two tall pointed arches for the south arcade in the nave, and two smaller ones in the chancel, but, in addition, another arch was cut through the wall in the 19C between the two arcades to provide access to the aisle.
 The north-west window of the nave has two 17C Flemish roundels showing St Dorothy and St Ursula, one above the other, with a 15C fragment of a bird at the bottom.