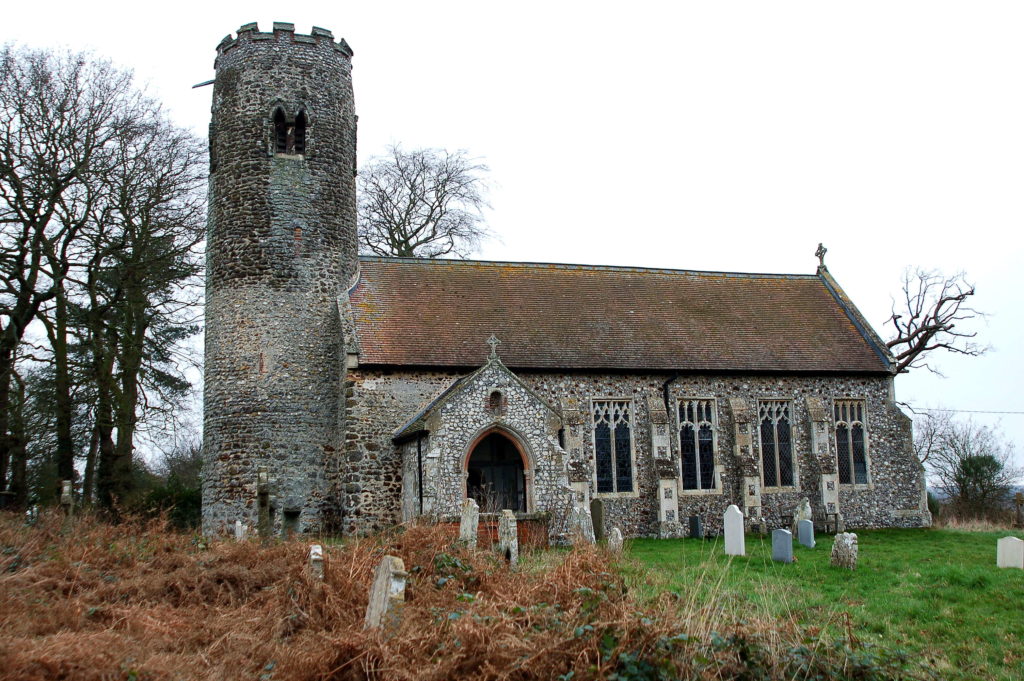 St Mary the Virgin, Bessingham
Almost a century ago this North Norfolk church was described as dedicated to St Andrew. The round tower church of Bessingham, which dates from Saxon days if not earlier, is dedicated to St Mary the Virgin. However, for about 150 years, it was called St Andrew.
It appears that the architect, later parson Claude Messent, in his book, Parish Churches of Norfolk & Norwich, published in 1935, put forward St Andrew as Bessingham's patron saint. As the church had a communion cup, engraved St Andrew, maybe he insisted it must be known by that name. Since that day, other authors including the influential Munro Cautley's Norfolk Churches, 1949, followed suit. The Society's founder Bill Goode in his book, Round Towers, continued likewise.
The Society's secretary 'Lyn Stilgoe said that Francis Blomefield wrote about "Basingham" and its church of St Mary in the 18th century. Again, T H Bryant in Churches of Norfolk (1900) says St Mary. 'Lyn speculates: "Was there another church of St Andrew in the parish which has totally disappeared, physically and from local memory, but its chalice has survived?
It is certainly true that the Saint for the high altar was never set in stone and could be changed, sometimes at a whim. Members may recall during our 2019 visit to Syleham, it reverted from St Mary to its original name of St Margaret of Scotland in 2008 – a decision confirmed by the Diocesan Bishop.
However, while Roughton Benefice recognises that the church was dedicated to St Andrew for about 150 years from the time of the Reformation, today it is definitely St Mary, Bessingham.
Thanks to Society member, Dave Gillett, for raising the topic. Our website now reflects its current name. If anyone has further information on the subject, please let the website editor know – Michael Pollitt
Footnote: The Rev Charles L S Linnell, who gave a memorial window to St Andrew, Letheringsett, wrote the first guide books for many north Norfolk churches. He also did one on Norfolk Church Dedications in 1962. He reckoned 20% St Mary (196 churches), 16% All Saints (153), 10% Peter (101) and 11% Andrew (106). Dedications to Mary could, of course, include the Annunication, Visitation, Conception, Nativity, Assumption or just plain Virgin.