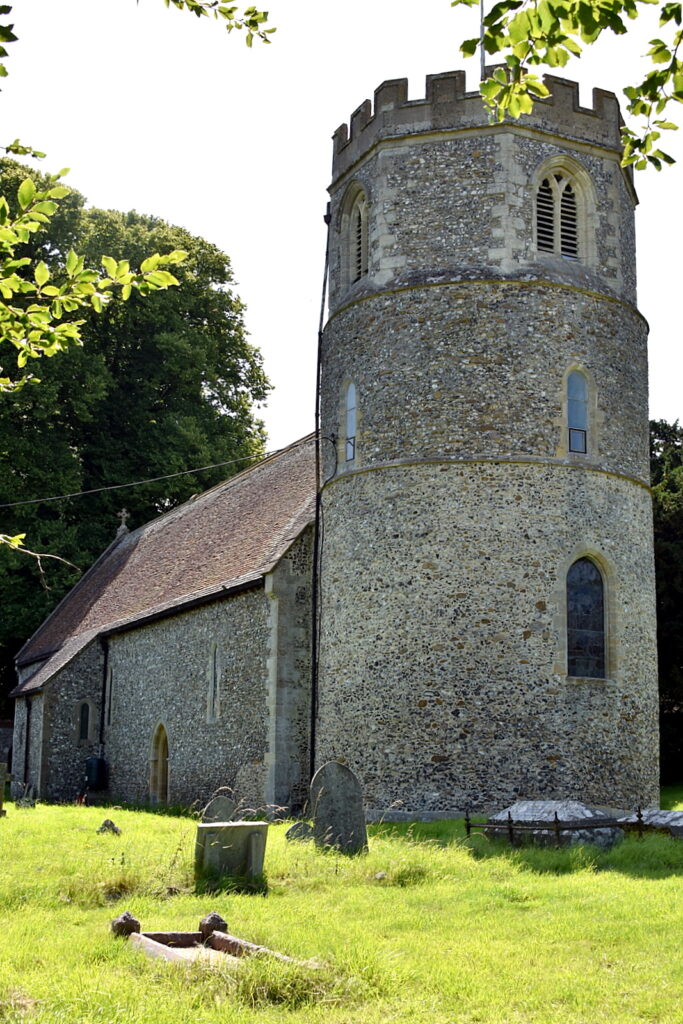 A fine of avenue of lime trees leads to this church in Berkshire. TONY WALSH visited and took this selection of photographs in July 2021.
St Mary's stands in a narrow part of the Lambourn valley, four miles downstream from Lambourn on B4000 road. A fine avenue of limes leads to the church. It consists of a round west tower with an octagonal top, nave, chancel and south porch.
The Hungerford Rural District Official Guide describes the tower as Transitional Norman with a 15th century octagonal belfry stage. The church is mainly 12h century, it states. While the Victoria History of Berkshire dates it all except the octagonal belfry as Transitional Norman.
But an extract from the West Shefford Parish Register (1693 – 1778) states: "The church is now classed by Lysons (Magna Britannia) among Saxon Edifices; how justly may be judged from the shape of the tower. The font, it adds, is "pure Saxon."
These writers show the wide divergence of opinion. and the truth is, I believe somewhere between them. The wall thickness of both church and tower, and the width of the nave, not only have good indications of a Saxon date, but my research has proved, time and time again, how these measurements are a great aid to dating these churches. Especially when there are Norman features present, then thinner walls than those used by the Normans, give a positive dating to the earlier date.
There are a number of Norman features, by which we can say that tower and church are at least Norman, and the wall thicknesses prove they were here before the 1066 Conquest.
The tower is curved on the east internally, showing it was built with the church, and the south nave doorway has definite Norman columns at the jambs. The pointed arch however, that has prompted the early writers to describe it as Transitional Norman, seems to be the doorway has been altered. The original doorway is from the Norman period, or before 1175.
The east chancel window is Perpendicular, but outside, can be seen parts of two Norman windows, destroyed when the larger window was installed. The wide Gothic tower arch must therefore also be an alteration from the time the south doorway was altered.
The tower which has an upper doorway with a pointed head, and faced with dressed stone, has its circular stage divided by a stone string course, and windows that appear to be Norman rather than later.
St Mary, Great Shefford
Dimensions
Tower height – not measured
Internal diameter 14ft 5ins
Tower wall thickness 3ft
Bells 6
Chancel width 19ft 2ins
Nave width 18ft 10ins
Chancel length 25ft 5ins
Nave length 53ft 8ins
Nave wall thickness (N&S) 3ft