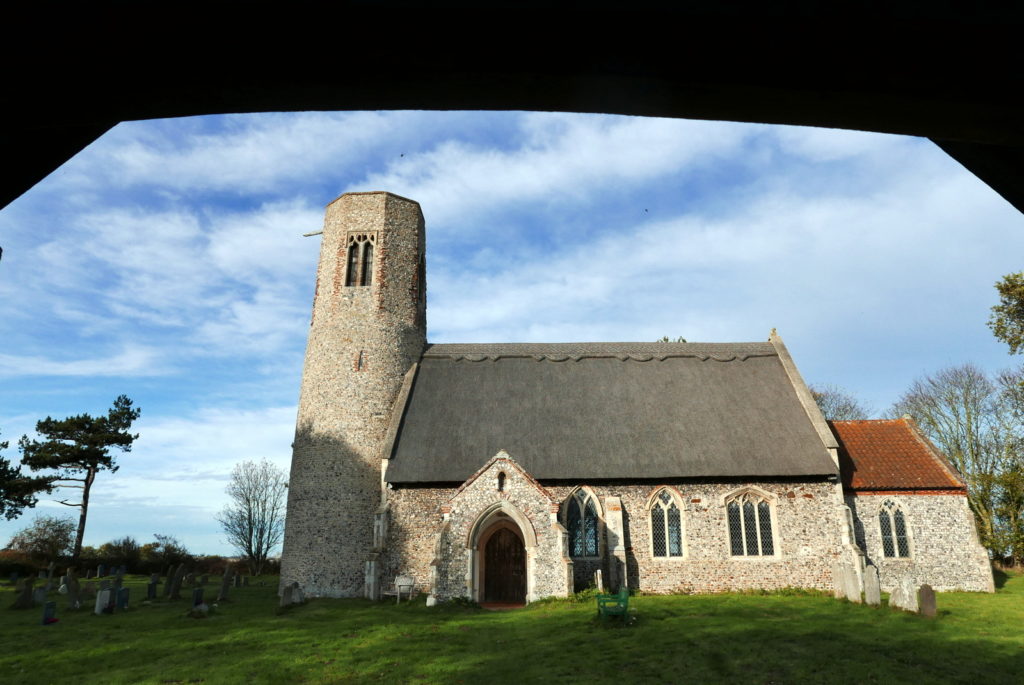 Edingthorpe is between Mundesley and North Walsham.
It was said by Siegfried Sasson who holidayed here as a schoolboy to have 'a special dignity and simplicity as though it were the faithful servant of the life around it'.
The nave is wide for a small country church (23 ½ ft).The north wall is of crudely coursed large boulder flints with courses of IBC (iron bound conglomerate). The north door is late Norman/Early English (Pevsner dates it as 1190), probably the earliest datable feature of the church.
C14 perpendicular windows have been inserted into older wall. The south wall is of a different build with smaller flints and more regularly coursed with knapped flints. The windows are of patterns used in Decorated period of C14. Chancel rebuilt in C19.
Tower is tall, circular for about 2/3rd of its height with octagonal belfry. Stephen Hart argues from the internal work and lack of stringcourse that the round part of the tower and the octagonal belfry were built at the same time. And also that they probably are of the same date as the south wall.
The tower is central to the wide nave: the nave was possibly widened when the south wall was rebuilt.
A C14 date would make Edingthorpe one of the latest medieval round towers. The C14 wall paintings include St Christopher and the seven works of Mercy. Fine c14 screen with six apostles.
Jack Sterry visits Edingthorpe in Round Tower Churches in Mid-Norfolk, North Norfolk and Suffolk (2010).