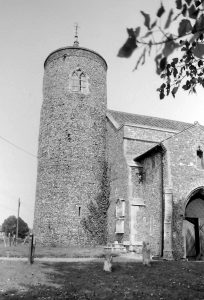 Three round tower churches have been awarded a total of almost £15,000 by the Norfolk Churches Trust.
A grant of £10,000 was made at the conservation charity's latest quarterly meeting towards urgent repairs to the tower of SS Peter and Paul, Tuttington, near Aylsham. The total cost, which includes repairs to the chancel and nave roofs, runs to about £120,000. It will cover repairs including to a buttress, improving drainage and rainwater goods including downpipes and gutters.
The Round Tower Churches Society also made a recent award of £2,000 towards the repairs.
A Breckland church, of St Margaret, Breckles, near Attleborough, has been awarded £4,000 towards the £41,000 repair costs. It needs to improve drainage and replace guttering and downpipes as well as carry out repairs to roofs and stonework
The Norfolk Churches Trust also gave £500 to St Edmund's, Taverham, towards the total £27,000 cost of repairing the chancel and nave windows and the south aisle roof.
The trust, which also gave a further £18,000 to six other churches, takes into account the funds available before making specific repair grants.