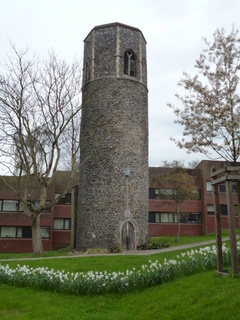 The nave and chancel were severely damaged by bombs in 1942. The body of the church was demolished but the round tower was left. It is now hidden away amongst modern housing just south of St Benedict's Street and close to the Inner Ring Road.
The tower has a door in the west wall with plain stone reveals, a small tower arch (blocked with modern brick) with remnants of wall indicating of the position of the nave. Excavations in the 1970s indicate that the tower was built on flint and mortar foundations in about 1200. The octagonal top and belfry openings were probably built later, before 1400. The church's fine font (c1380) was not damaged in the bombing and was later taken to Erpingham church where it can still be seen. 
St Benedicts Church Norwich by Richard Harbord was published in The Round Tower in September 2007. St Benedicts tower can be viewed at any time.