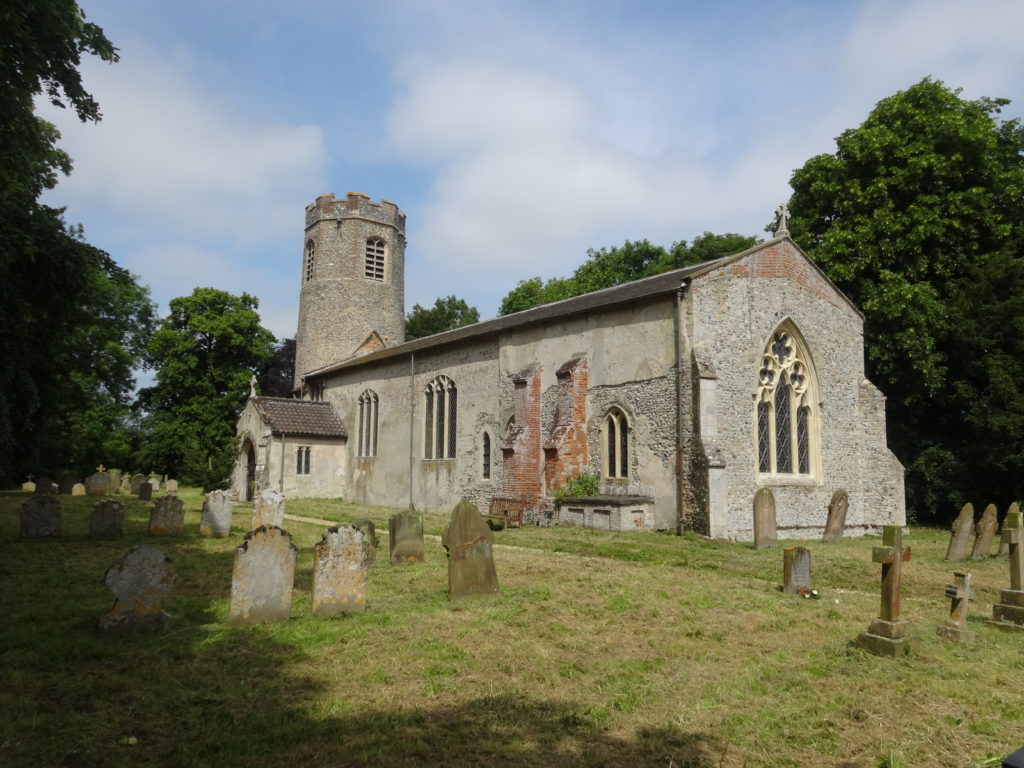 Situated to the east of A140 and south of B1527, it is not far from Long Stratton, tucked away down a lane. 
Stephen Hart considers that St Catherine's is of Norman origins. The tower is circular for ¾ of its height with an octagonal belfry stage and parapet. The lower 2/3 of round section of the tower is of coursed flint rubble is Norman. The top 1/3 is roughly coursed with smaller and more tightly packed flints, with a west window framed with medieval brick.
This section is a new belfry replacing the Norman belfry and is late C13 or early C14. The octagonal stage (C15) is of smaller rubble with bricks, medieval brick quoins and a two light Perpendicular belfry openings.
The parapet (C16) is of knapped flint with dresses stone quoins. The tower arch is round headed, with chamfered imposts and stone dressing to its jambs and arch. It was probably built at the same time as the nave.
Norman north door is blocked. Entry is now through south porch with C14 door with the initials of the church wardens. C15 font with smiling lions. Fine wall paintings of St Christopher (1506) and St George and dragon. Rood and roof from 1900s. Early C16 screen with rich colours with painting of donor, John Bacon, his wife and children.