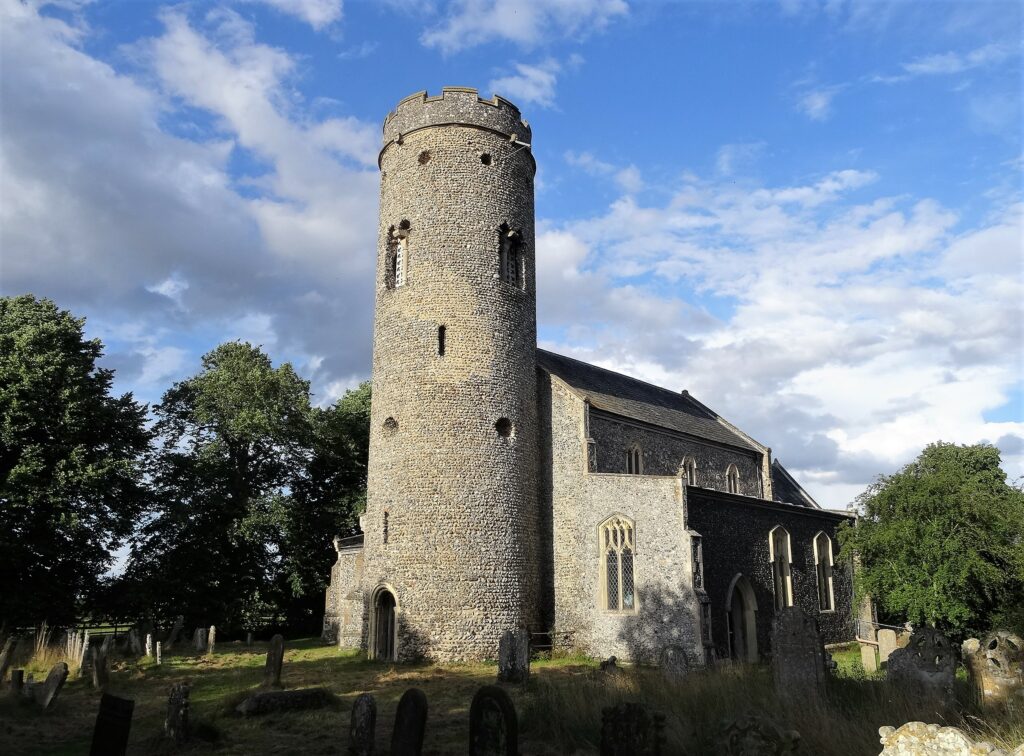 SUPPORT GROUP'S SUCCESS and (below) HISTORY AND HERITAGE by Stephen Hart
A newly-formed support group for the church has gone from strength to strength, reported in the March 2020 (The Round Tower).
It has also managed to raise more than £5,000 for St Peter's Church, Forncett, near Long Stratton. Since the Friends of St Peter's Church was launched last October, it now has a membership of more than 80, said churchwarden Gillian Barnes.
A series of Sunday lunches through the winter, usually limited to about 40 people at the village hall, has been a spectacular success, she added. Since taking over as churchwarden about 18 months ago, her first priority has obviously been the church. Thanks to a £1,000 donation by the Norfolk Churches Trust at its October meeting, urgent repairs were carried out to the roof and rainwater goods before Christmas. "We were able to replace lost slates and recaulk gutters to ensure that water could drain away," she said.
Membership of the Friends is open to all in the village. A series of fund-raisers are planned for the spring and summer including an "open garden" events on Sunday, June 13, 2020. Details will be available on the Forncett's website when finalised along with a concert in July 2020.
While major repairs to the tower were carried out about a dozen years ago and it remains in good order, the church's architect Ruth Blackman has highlighted concerns caused by rising damp.
In the north aisle of St Peter's, a most unusual alabaster tomb dedicated to Robert and Ann Drake, dating from 1485, is also in need of conservation.
However, a long-term programme to conserve the church is another priority as a small team are preparing a major bid for funding.
HISTORY AND BACKGROUND
In an attractive setting with some fine old houses close by.
The tower is Saxon, circular to the top with later battlements. In coursed rubble flint which continues onto the nave west wall. Two-light belfry windows with triangular shaped heads, supported on slabs and with a central column: windows are slit at two levels and round (11), deeply splayed at another two levels.
Tower arch tall and slim,  Stephen Hart suggests that the space at the base of the tower may have served some liturgical purpose.
Chancel – herringbone work and outline of a large (filled in) opening on south side about 6 feet above ground with round head of a Saxon window. Fine C15 porch with inscription and monogram IHS in flint above doorway. C14 three bay arcade and C15 arch braced roof and clerestory windows.
Look for the brasses, carved bench ends and alabaster tomb of Thomas and Elizabeth Drake. There is a good church guide on sale. It suggests visiting Forncett St Mary, which was closed in 1980 but thanks to the hard work of local people is now a church again.