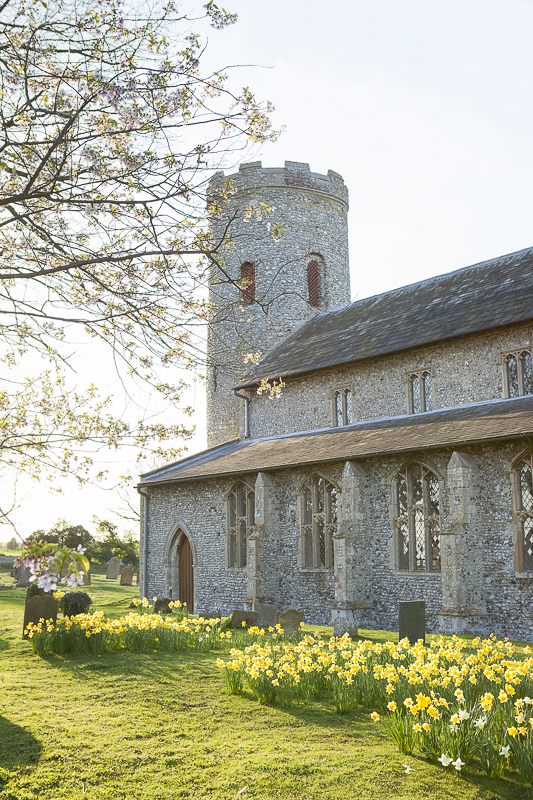 St Margaret, Burnham Norton
Easter Greetings 2020
A perfect photograph to mark Easter 2020 – daffodils and a round tower church in north Norfolk. Kate Davey, who is a member of the Society's committee, bought this card and sent it to family and friends with Easter greetings. See Leonard Smith's photograph, above.
She tracked down the photographer and was able to confirm the actual church from images on the Society's website. As it was taken from a slightly different angle, it did take her a little longer to be certain.
Specialist photographer Leonard Smith had travelled from his south Suffolk home near Manningtree to Norfolk. He was on a "short spontaneous photographic tour of north Norfolk looking for imagery for his greetings card business" firstly in the early 2000s and then again to take this lovely shot on April 8, 2011.
A friend, who lives at Shouldham, suggested that it would be worth driving over to the coast and calling at St Margaret's Church, Burnham Norton. There, he took this glorious shot of the daffodils, which has become one of his popular choices in his range of Easter cards.
Mr Smith, who will mark 35 years as a professional photographer in May, has built up a greetings' card business now based at Coggeshall, near Chelmsford. He started the business, "Lens Ideas" marketing a range of greeting cards with his wife, Issy, in the early 1980s which has evolved into Leonard Smith Publishing. For further images and cards, visit his website.
A further Easter surprise for the Society's secretary 'Lyn Stilgoe. She received a lovely note from a member in Stockport enclosing a cheque for £100. "I've never met him but how generous especially at this time," she added.
Photograph of St Margaret's, Burnham Norton, by Leonard Smith – taken on April 8, 2011.