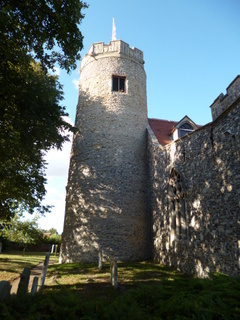 A briefing for members attending the 47th annual general meeting on September 25, 2021 by the Society's secretary 'Lyn Stilgoe.
This is one of two medieval churches in Bungay. This is the parish church and the other, St Mary's, is cared for by the Churches Conservation Trust.
The tower here is 11C and blocked circular windows can be discerned in the fabric. Near the top of this tower there used to be eight circular openings for the belfry. Where flints are used to block in flint-framed openings, it can take time to notice them!
There are four more lower down the tower and also some small blocked round-headed lancet windows. The ground floor west window is 19C.
In the lower parts there are traces of "herringbone" work (stones laid at alternate angles <<<<) done with sandstone blocks. The tower was restored in 1757, when the belfry openings were replaced with three square brick-lined openings. The 15C flushwork parapet was re-instated with its old shields and gargoyles (to throw rainwater from the roof).
The west and north nave walls, with the west quoins being made of flint, are also 11C, with one stone-framed window, having an arch cut into a single stone, and upright and flat stones for the jambs, still be seen in the north wall, though it is blocked internally. The wall now has two large 15C windows inserted! The chancel was in ruins by 1588, partially rebuilt in 1754, and again in 1926.
The south aisle was probably added in the 14C. The south porch was restored in the 19C and has three unusual shields in the parapet above the entrance. These show the Lamb of God, representing God the Son, JEHOVAH written in Hebrew for God the Father, and a dove as the Holy Spirit.  Just west of the porch is an earlier stair turret which gave access to the former upper porch room or "parvise". The red tiled nave roof includes a dormer window near the west end, which gives light to the gallery in the nave.
The 18C font, just inside the south door, is what is known as a "bird bath" font, a small shallow bowl on a pedestal.
Three 14C pillars of quatrefoil plan form the south arcade. On the eastern one is a brass plate with a long inscription for Lionel Throckmorton +1599.
The organ gallery at the west end of the nave has a row of shields, painted in 1927, for the Diocese of St Edmundsbury & Ipswich, the Evangelists' symbols, the Trinity symbol, etc.
At the east end of the nave is a splendid Elizabethan hexagonal pulpit, set up in 1588. It has deeply carved squared panels and arabesque friezes.
The Laudian altar rails, which have many tightly packed turned balusters, to prevent dogs accessing the altar, date from about 1660. The slightly odd-looking angle piscina is probably from the 19C restoration of the chancel.