Round Tower Churches Tours 2018.
12th May 2018: 10am Norton Subcourse, Thorpe next Haddiscoe, Haddiscoe, before AGM at Haddiscoe Village Hall at 2.15pm.
2nd  June  2018 Pentlow, Essex, Little Bradley, Bartlow,
7th July 2018 East Lexham, Shereford, Syderstone. East Lexham is north of Swaffham TF860172
4th August 2018 Thorpe Abbotts, Needham, Rushall. Thorpe Abbotts is in South Norfolk close to A143 TM188789
1st September 2018 Worthing, Bylaugh, Haveringland. Worthing is near North Elmham TF995196
Norton Subcourse (this and photo of East Lexham by Simon Knott), Pentlow, East Lexham, Thorpe Abbotts & Worthing churches.
Simon Knott's amazing websites with photos and information about Norfolk churches is www.norfolkchurches.co.uk.
For his Suffolk churches site go to  www.suffolkchurches.co.uk
Everyone is welcome to join, and the Tours are free, though donations are encouraged at every church. Tea will be provided by one of the churches during each afternoon. Further details from 'Lyn Stilgoe 01328 738237.
Many thanks to 'Lyn and Dick for their hard work in setting up these tours and for the excellent Information they provide for us.
Round Tower Churches Society Study Day October 6th 2018. 
A report on the Study Day will be published in December 2018 Round Tower Magazine.
2017 Round Tower Tours.
Four churches visited in 2017: Fritton St Edmunds, Threxton, Bramfield & Aslacton
Many thanks to 'Lyn and Dick for their hard work in setting up these tours and for the excellent Information they provide for us.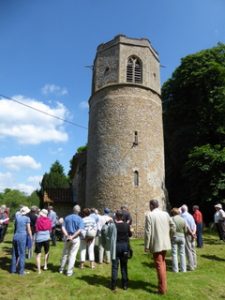 6th May 2017 Fritton St Edmund, followed by Ashby and Lound, and AGM at Lound Village Hall.
3rd June 2017  South Pickenham, Threxton, Merton
1st July 2017  Theberton, Thorington, Bramfield
5th August 2017  Matlaske, Stody, Letheringsett
2nd September 2017  Wacton, Aslacton, Tasburgh
                                                                RTCS at South Pickenham
2017 Norfolk Church Tours 
23rd April 2017  Ranworth, South Walsham, Upton, Fishley RT
21st May 2017  Saxlingham, Field Dalling, Langham, Binham
18th June 2017 North Lopham, South Lopham, Fersfield, Diss
16th July 2017 Weasenham All Saints, Rougham, Great Massingham, Little Massingham
On this page we advertise events happening in round tower churches. If you have an event you would like to publicize please send information to anne.woollett@tiscali.co.uk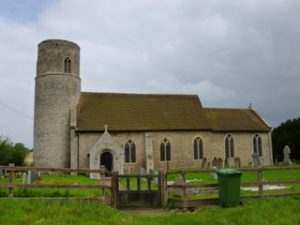 All Saints Church Threxton: 12th August 2018 2pm – 4pm. Afternoon tea at All Saints Church, Threxton
15th September 2018 10am – 12pm. Coffee morning at All Saints Church, Threxton
These events are all to raise money for the restoration of the tower. Threxton church is just north of B1108, east of Little Cresingham.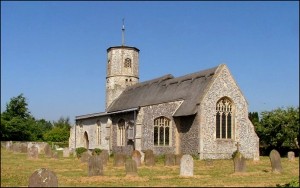 The churches of Beachamwell September 23rd 2018.
Beachamwell Local History Group is organising an event about its churches, The round towered church of St Mary's Beachamwell will be the venue for an exhibition about the four churches in Beachamwell parish. There will also be displays at Beachamwell Village Hall, and St Botolph's (normally closed to the public) will be especially open for the occasion. St Botolph's has a fine Norman doorway and medieval bench ends.
For more information contact Beachamwell Local History Group at www.beachamwell.org.uk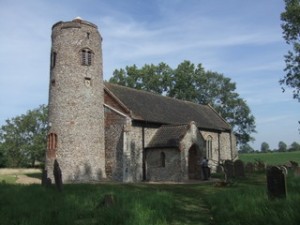 Hemblington All Saints Church, Church Lane, NR13 4EF Commemoration of 1918 – 2018 The Centenary of the Armistice
All are welcome to see a free exhibition which marks the ending of the First World War – and honours those local men who fought and died in it.
Friday 27th July to Sunday, 12th August – Open Churches Week
6 – 9th and 13th – 16th September – Heritage Open weekends
5th – 13th November including Remembrance Day
Also a special free event on Saturday 15th September from 2.00 p.m. – including refreshments. An opportunity to see the exhibition, the collage made by children at recent Family Fun Days, hear people's memories or stories of family members involved in the war, either at the front or supporting the war effort at home, see family souvenirs from the time, and hear poems and readings about the First World War and the Armistice.
If you would like to help or take part in this event, please contact:  Catherine (01603) 270 360 or Lynda 713 597 or Sue 715 804 / Hemblington@gmail.com
November 11th 2017 St Peter's Haveringland: a special Remembrance Service to mark the 70th anniversary of the closure of Swannington airfield, which surrounded the church during WW2. There were representatives of Armed Services, descendants of airmen who flew from here attending, as well as local parishioners and other visitors.
The church was open on Saturday 11th and Sunday 12th with an exhibition about the airfield and the men who flew from it. An Avenue of Remembrance was dedicated, there was a fly past and poppy drop. It was a a moving occasion and a great chance to see inside a Round Tower church which is generally closed.
Friends of Hemblington church tour of three Medieval churches with wall paintings. Saturday, 12th August 2017. Visited St Edmund's Church, South Burlingham NR13 4EU, St Mary's Church, Moulton St Mary, and St Andrew's Church at Wickhampton. Tour leader Rev'd Canon Nick Garrard. For more information go to www.hemblingtonchurch.org.uk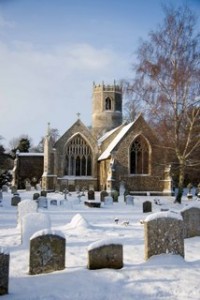 Rickinghall Inferior Church. Saturday 13th May and second Saturday of June, July & August between 9am and 12.30pm. Sale of Quatrefoil books. NB The church is open all day. Quatrefoil is a local publishing team. It received a grant a few years ago from the Heritage Lottery Fund to publish books about the history of the villages of Rickinghall, Botesdale and Redgrave. Thirteen books have been published so far on various subjects mainly through the medieval period to the present day. Although the grant covered the first few books, the profit from the sales of the books fund the later ones. As the post office in Rickinghall and the hardware store in Botesdale closed last year, we lost two of our three retail outlets, with only Redgrave Community Shop selling books. The Rector and churchwardens kindly agreed to let us sell the books in Rickinghall Inferior Church. There will also be a small display covering a particular subject of the books each month. The books sell for £5 each, apart from the Rickinghall Inferior Church Guide which sells for £3. For further details see www.quatrefoil.org.uk. There are many more subjects in the pipeline for further books. Rickinghall Farmers Market and Car Boot Sale are also available next door in the village Hall.
The church is open every Saturday during the summer months from 10 am until about 4 – 5.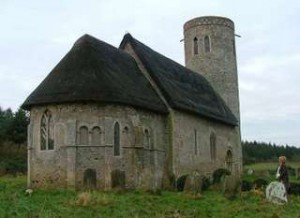 St. Margaret's, Hales, and St. Gregory's Church, Heckingham. Public Meeting on Wednesday 20th September 2017, at 6.30 at St Margaret's Church Hales. These churches are the care of the Churches Conservation Trust (CCT) who have recently estimated that the repairs required to enable them to remain open for their local community and visitors is about £10,000 each. CCT have set up a public meeting to explain their plans for the two churches, how they will seek funding and how the local community can get involved in the process, from hosting seasonal suppers, a Christmas event or a Summer Tea Party.
For information about CCT go to https://www.visitchurches.org.uk/visit/church-listing/st-margaret-hales.htm