Patron: H.R.H. The Prince of Wales
CHAIRMAN — Stuart Bowell, 2 Hall Road, Chilton Hall, Stowmarket, Suffolk. IP14 1TN    01449 614336  gw.sab@btinternet.com
RTCS Chairman Stuart Bowell, in formal and not so formal mode
VICE CHAIRMAN– Michael Pollitt, 60 Chamberlain Road, Norwich, NR3 3LY   01603 486997    michaelbpollitt@btinternet.com
Michael Pollitt taking notes. Michael Pollitt & Paul Hodge inspect Gresham's tower.
SECRETARY — Mrs 'Lyn Stilgoe, Crabbe Hall, Burnham Market, King's Lynn, PE31 8EN    01328 738237   Jastilgoe@aol.com
TREASURER–Nik Chapman. 
After many years as RTCS Treasurer and Membership Secretary Richard (or Dick) Barham, has stood down, although he will continue to be involved in Summer Tours and distribution of The Round Tower. Many thanks to Dick for his gentle style and Norfolk humour, and his hard and effective work over the years.  At AGM in May 2017 Dick was made Lifelong Vice President of the Society in recognition of his enormous contribution.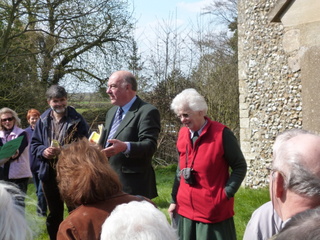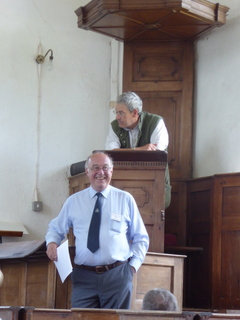 'Lyn Stilgoe and Dick Barham at the start 2013 season of church tours at Hoe (left) and Dick with Michael Pollitt at East Walton August 2016 (right)
GRANTS OFFICER — Mr Nick Wiggin, Fir Tree Cottage, High Road, Witnesham, Ipswich, Suffolk. IP6 9EX 01473 785596    nickwiggin@hotmail.com
MEMBERSHIP SECRETARY — Mrs Teresa Wiggin, Fir Tree Cottage, Witnesham, Ipswich, Suffolk, IP6 9EX    01473 785596. wigjter@outlook.com. Teresa, a long tIme member of RTCS committee is now the person to go to with queries about membership.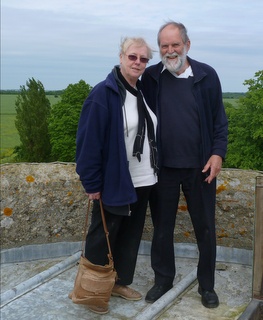 Teresa and Nick Wiggin on top of a round tower
MAGAZINE EDITOR — 
WEBSITE —
Caroline Chapman
Julia Hanson 
LECTURERS — John Scales, Pastons, 30, Stoke Road, Poringland, Norwich, NR14 7JL    01508 493680
Stuart Bowell at the address above and Richard Barham, 6 The Warren, Old Catton, Norwich NR6 7NW  01603 788721
Stephen Hart with RTCS officers in 2010.