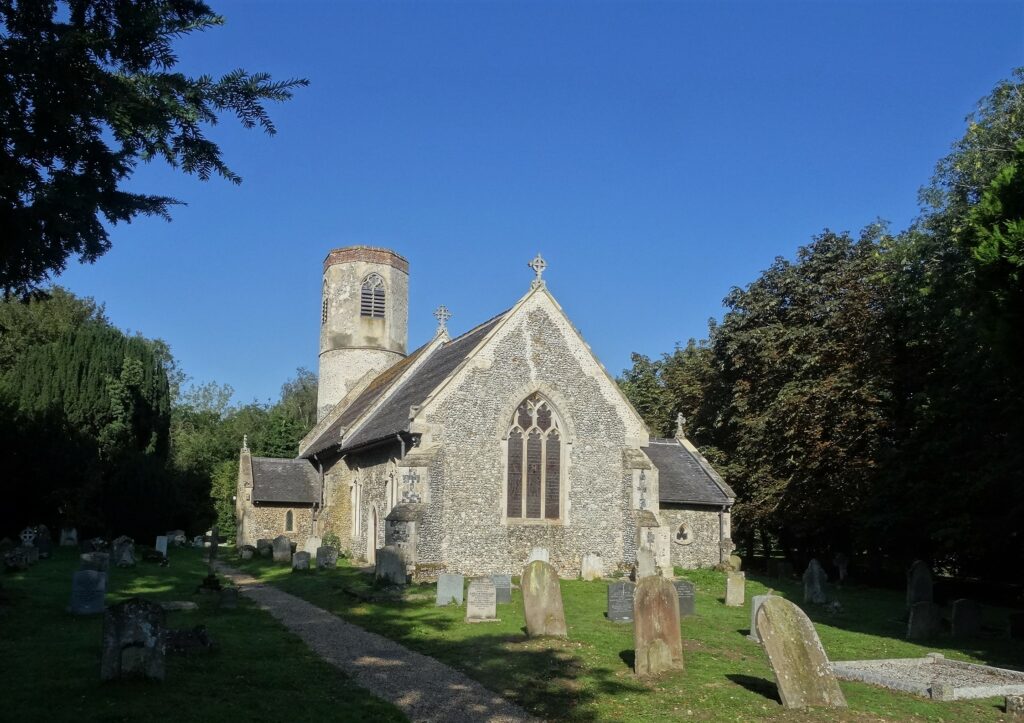 MAJOR REPAIR PROJECT NEARS COMPLETION
A major repair project at Stuston  is nearing completion despite a potential last-minute hitch, reported in the Round Tower magazine (December 2019). As rotten floor joists were being replaced, a previously-unknown brick-arched vault was discovered in the south-east corner of the nave.
Fortunately, repairs could be made to the floor without causing any serious delay, said Bob Feast, treasurer to the parochial church council. "We had no idea that there was a vault there but it did cause us some concern when it was uncovered," he added.
The repair programme, which has cost about £230,000, will help to safeguard All Saints for the foreseeable future and enable more use of the medieval church by the wider community.
One of the key objectives was to secure the church's round tower, which was at risk. There were at least three significant cracks in the tower which have now been repaired, said Roger Greenacre, project manager for PCC.
Thanks to the Heritage Lottery Fund's grant of about £190,000, it has been possible to carry out all this immediate repair work. As the church also faced long-term problems with damp aggravated by poor drainage, the PCC has decided to tackle this final phase. Although it may cause a little more delay, it will help to ensure that years of problems with damp, drainage and water run-off can be finally solved, said Mr Greenacre.
The state of the render on the tower had become a serious concern, he said. Flints had fallen out because lime mortar was failing, probably caused by water damage. "The really major cracks have all been repaired," said Mr Greenacre.
Further repairs to the nave roof, rainwater goods and gullies have also been completed. The church was also fortunate to obtain more than £21,000 in HLF funding for key investigative and preliminary works.
The last phase will complete the whole process by improving the drainage around the church, which will help to keep All Saints drier. Mr Greenacre, who is also chairman of the parish council, said that church will be transformed into an asset of value and use for the wider community. Meanwhile the fund-raising will continue as a total of about £30,000 needs to be raised to complete this element.
The work has been carried out by specialist heritage builders, EFL, of Southburgh, near Hingham, and overseen by architect Ruth Blackman, of Birdsall, Swash & Blackman, of Beeston next Mileham.
12 YEARS OF HARD WORK
It taken almost 12 years of determination and endeavour to get funding for the restoration projects, said Stuston's architect Ruth Blackman. She praised parochial church council members, clergy and the community for rising to the challenge and especially for years of efforts to persuade grant-giving bodies to give financial support.
Mrs Blackman was delighted that finally the whole project is set for completion within the next few months. "It is really exciting and just shows what can be done," she added.
Although approaches were made in 2008 and 2009 to Historic England, these efforts were initially rebuffed. But the PCC revised proposals and re-submitted requests for grant help in the following years, which have ultimately been successful. The Heritage Lottery Fund's backing was crucial, with a grant last year to carry out a detailed and comprehensive survey and then the award of more than £190,000 for funding the repair programme.
She said that the PCC's plans to create a new community space inside the church would be especially welcome in a village which did not have a central meeting space. Taken from The Round Tower, December 2019.