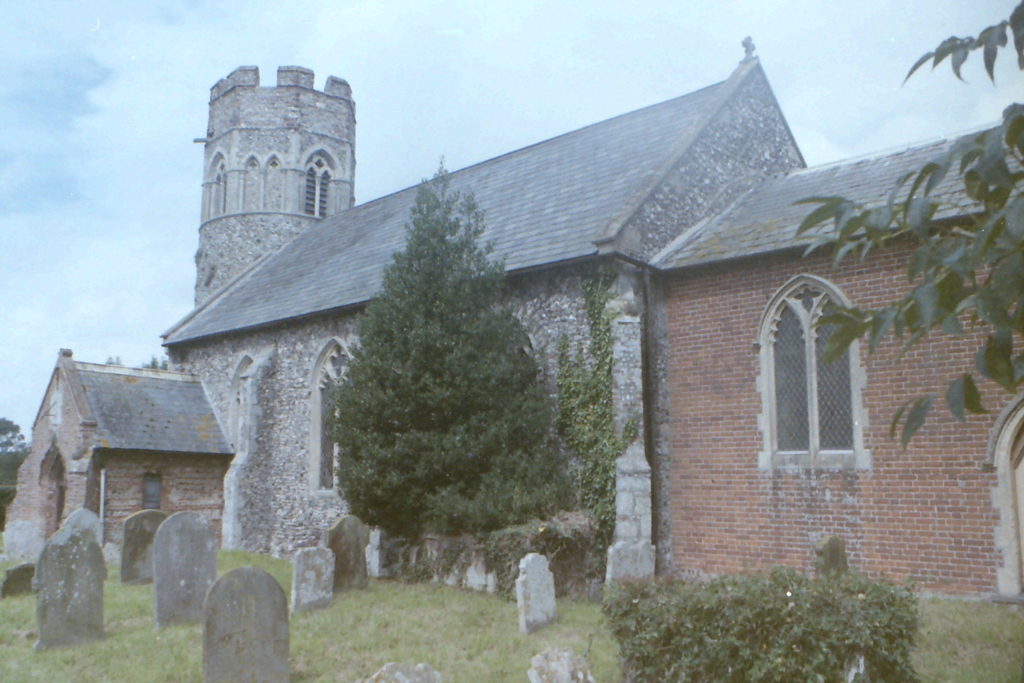 St Peter, Repps cum Bastwick
On the high ground overlooking the river Thurne, the tower is circular for three quarters of its height with an octagonal belfry. Both stages are of cobble flints and roughly coursed. The belfry has stone quoins with pointed lancet openings. The brick battlements are C15. The tower is circular internally to its full height, suggesting that the two stages were built together in C13.
The tower arch, just visible behind the font, is round headed. The church has a complex history. In his article in The Round Tower (June 2012), Stephen Hart suggests that there was a C11 church which was given a tower in C12. In the C13 the tower was replaced and the north door added: remnants of the earlier nave can be seen in the west nave wall. The church was extended in C14 with windows with decorated tracery and medieval bricks in the relieving arches over them. The porch is C16 or C17. The chancel was rebuilt in brick in C18. C15 font and brasses in the nave. Jack Sterry includes it in his 2007 book Round Tower Churches to the west, east and south of Norwich.  A guide is available at the church.
GRANT AWARD NEWS
Two Broadland round tower churches have been awarded a total of £8,000 by the Society. The Society gave £5,000 in December 2019 to St Mary's, Surlingham, near Norwich, towards the estimated £140,000 repair programme.
Another church – one of 17 in Norfolk on the latest "heritage at risk" register in October 2019 – has been given a £3,000 grant for urgent repairs to the tower roof.
St Peter & St Paul, Repps cum Bastwick, near Acle, which needs total repairs of £162,000, will use the latest grant to prevent further serious damage to the tower by fitting replacement water spouts.
Sally Mitchell, who has been a churchwarden for the past 20 years, said that the Society's grant will help to pay for repairs which will throw water away from the tower.
However, having been twice turned down for national heritage grants, the medieval church needed to raise significant funds to complete the rest of the conservation works.