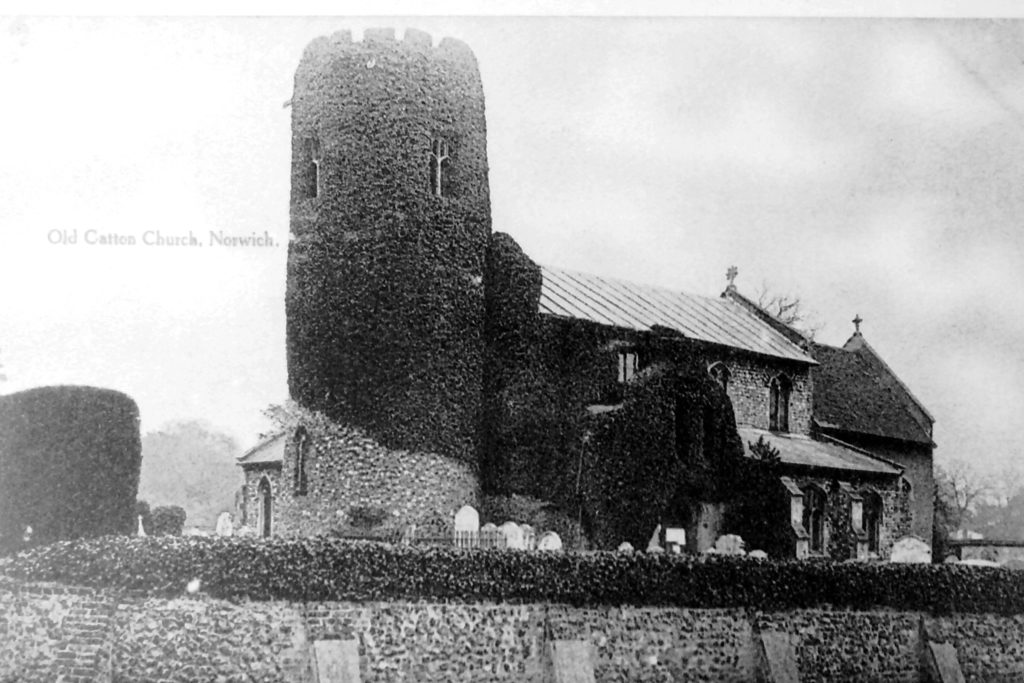 On the northern outskirts of Norwich, St Margaret's Church, Old Catton, is well worth a visit.
Stephen Hart considers that the oldest parts of the church are parts of west, south and south west walls with flint quoins and uncoursed rubble flintwork (probably C11 or C12). In C14 the nave was heightened (without a clerestory) and porch, tower and arch between chancel and lady chapel were built.
In the 15th century, clerestory, north arcade and north aisle were built. South aisle added in 1850 and in 1881 the north aisle was replaced with north transepts. The tower is circular for two-thirds of its height. There is a change of flint work about halfway up the round part of the tower. The lower section is of roughly coursed knapped flints and medieval brick headers in a loose chequer board pattern- C14 work. The top part of the round section is of uncoursed flint work of knapped flint and rubble. There are two west facing windows framed with medieval brick, similar to that in the chequer board pattern. At the top of the round section the flintwork is predominantly cobbles- possibly it was rebuilt in preparation for a new belfry?
The octagonal belfry stage has medieval bricks at the angles, rising from a course of cant bricks, with two-light Perpendicular belfry openings. The tower arch is double width, with each side pointed. This fits with C14 date and suggests that the tower was added to an earlier church. There is no evidence of belfry openings in the lower/round section of the tower suggesting that the octagonal belfry replaces an earlier one.
Inside the church feels very Victorian. By mid C19 when the church was enlarged and restored (by Thomas Jekyll) several wealthy families had built houses in the locality. There is good glass and memorials in the church and churchyard, including one for Richard Westmacott (1820). There is a Tudor pulpit dated 1537 bearing the arms of the guilds of Norwich which came from St George's Colegate in mid-C19. Richard Barham wrote about the  interior in The Round Tower (December 2003). His report can be found on the website.