A record of RTCS activities and events in 2012, 2013, 2014, 2015, 2016 & 2017.
2017 Round Tower Churches Tours.
Four churches visited in 2017: Fritton St Edmunds, Threxton, Bramfield & Aslacton
Many thanks to 'Lyn and Dick for their hard work in setting up these tours and for the excellent Information they provide for us.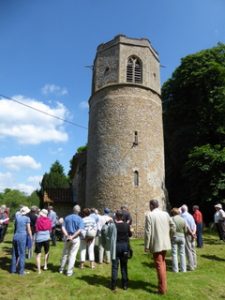 6th May 2017 Fritton St Edmund, followed by Ashby and Lound, and AGM at Lound Village Hall.
3rd June 2017  South Pickenham, Threxton, Merton
1st July 2017  Theberton, Thorington, Bramfield
5th August 2017  Matlaske, Stody, Letheringsett
2nd September 2017  Wacton, Aslacton, Tasburgh
                                                                RTCS at South Pickenham
2016 Round Tower Churches Tours. 
Saturday 7th May 2016 Holton, Wissett and Spexhall, and AGM at Spexhall Village Hall.
4th June 2016 Potter Heigham, Dilham, Witton
2nd July 2016 Little Saxham, Higham, Snailwell
6th August 2016 Bexwell, West Dereham, East Walton
3rd September 2016 Thurgarton, Wickmere, Thwaite
Holton by Bill Goode, Potter Heighman, Snailwell by Colin Hothersall, Bexwell by Gary Troughton, and Wickmere
Sunday church Tours 2016. 
17th April 2016 Scole, Billingford, Thorpe Abbotts RT, Brockdish
Thorpe Abbotts, Admiring tower of Billingford 
15th May 2016 Harpley, Houghton, West Rudham, East Rudham
19th June 2016 Felthorpe, Alderford, Swannington, Attlebridge,
17th July 2016 Hilborough, Bodney, Didlington, Foulden,
RTCS Study Day: Saturday, 15th October 2016. At Rickinghall Inferior Village Hall. Speakers:
Ian Groves (Ruined churches).
Mark Mitchels (The Bible in English).
Michael Rimmer (The Angel Roofs of East Anglia).
A report on the Study Day was published in The Round Tower, September 2016.
Thefts of lead roofs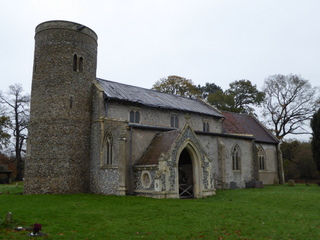 EDP published a letter from RTCS Chair, Stuart Bowell on March 10th 2016, under the heading 'Churches society welcomes the support to stop the theft of lead.' A high profile campaign to combat lead thefts from church roofs is welcomed by the Round Tower Churches Society. The support of the EDP and its sister paper, the East Anglian Daily Times, church bodies and the police commissioners in Norfolk and Suffolk , have highlighted the devastating impact of dozens of lead thefts in recent months. When St Peter's Church, Merton, near Watton, (see photo left with plastic roofing on nave) was the target of thieves again last August, the Round Tower Churches Society gave £500 towards the estimated £25,000 cost of repairs. It was the second theft in four years from that church. Members have also given generously to the society's "lead appeal" since it was launched last autumn.
2015 Round Tower Churches Tours. 
9th May 2015 Eccles, Quidenham, Croxton and AGM at Croxton.
Window at Croxton- model of Norwich Cathedral. Tower at Eccles.
6th June 2015 Hassingham, Acle, Fishley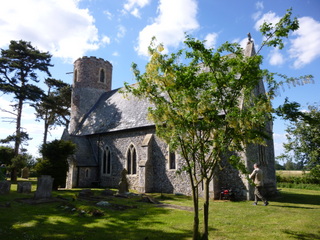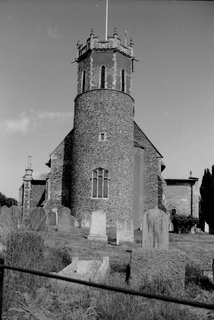 Fishley and Acle by Bill Goode
4th July 2015 South Elmham All Saints, Ilketshall St Margaret, Gisleham
Gisleham by Hardwicke Knight in 1923 and RTCS at Gisleham & All Saints South Elmham
1st August 2015 Hardwick, Morningthorpe, Forncett St Peter
Hardwick (outside only- work on inside has been delayed), Morningthorpe and Forncett St Peter. We were also shown Forncett St Mary, brought back to life by local people- a real achievement. 
September 5th 2015 Hardley, Hellington, Surlingham. 
RTCS at Hardley, Norman door at Hellington & lion from Surlingham's font. 
2015 Sunday Church Tours. 
19th April 2015 North Runcton, East Winch, Middleton, West Winch.
17th May 2015 Hapton, Flordon, Newton Flotman, Tasburgh Round Tower church.
21st June 2015 Barney, Kettlestone, Guist, North Elmham.
19th July 2015 Welborne Round Tower, Mattishall Burgh, Mattishall, Thuxton
RTCS at Welborne (photo by Gary Troughton) and Dick and flint quoins at Tasburgh
Tours and activities in 2014
RTCS Study Day. Saturday September 27th 2014. Speakers were:
David Stannard: The Lost Round Tower Church of Eccles-next-the-Sea.
Roy Tricker: How we used our Churches in Medieval Times.
Roger Rosewell: Medieval Stained Glass.
And a tour of St Peter's, Yaxham led by 'Lyn Stilgoe and Richard Barham.
The day finished with refreshments, thanks to  members who brought a great selection of cakes to share.
Tour of Yaxham church. Elephant pew end
Tours of Round Tower Churches 2014.
May 10th  2014 Round Tower Church Society AGM and Mutford, Rushmere and Frostenden. 
RTCS at Mutford and Rushmere May 2014
June 7th 2014: Horsey, West Somerton, Rollesby.
Mortar repairs at Horsey, pulpit at West Somerton & RTCS at Rollesby
July 5th 2014: Runhall, Wramplingham, Colney.
The chancel and tower at Wrampling and the tower at Colney, with Saxon work and its new weather vane.
August 2nd 2014: Gresham, Bessingham, Sustead.
RTCS at Gresham, Bressingham and Sustead
September 6th 2014: Onehouse, Beyton, Risby. 
Onehouse drawing from Claude Messent's book The Round Towers to English Parish Churches published in 1958. Many thanks to John Salmon who has produced ecopies of each of Messent's drawings. RTCS at Beyton with tower and integral butresses.
Sunday Tours 2014
April 27th 2014: Sutton, Ingham, Stalham, Brunstead.
Sutton. Photo by Simon Knott.  Baptism of Christ, Stalham and font at Sutton

May 18th 2014: Toftrees, East Raynham, Helboughton, South Rayham
June 15th 2014: Loddon, Sisland, Thurton, Bergh Apton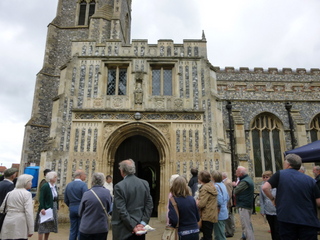 RTCS members admiring the fine porch at Loddon.
July 20th 2014: Holme Hale, Ashill, Houghton on the Hill, Great Cressingham.
Holme Hale and its rood screen
Houghton on the Hill   Flint work. St Michael's Great Cressingham
Books about Rickinghall
A group from Rickinghall who are interested in local history obtained a grant from the Heritage Lottery Fund to publish nine books. These are:
1 The lives of the Victorian and Edwardian Rectors of Rickinghall and their families by Sarah Doig, a professional genealogist. Price is £5 and 50p from the sale of the book will be donated to the Round Tower Churches Society and another 50p will be donated to the Churches Conservation Trust.
2 The history of Rickinghall Inferior Church, a round tower church by Jean Sheehan, an RTCS member. This book sells for £3, £2 of which is donated to St. Mary's Church, Rickinghall Inferior.
3 A Suffolk Boy in East Africa: the story of Samuel Speare, a local boy who at the age of 15 went to Zanzibar to become a missionary. He helped rescue slave boys and died tragically aged 20. A stained glass window in Rickinghall Superior Church is dedicated to him. The profits of this book will also be donated to Rickinghall Inferior Church.
4 A Walk Through Rickinghall and 5 A Walk through Botesdale by Diana Maywhort, the Rickinghall local history recorder.
6 Reflections on Redgrave by Jean Sheehan, the Redgrave Local History Recorder.
Books 3-6 cost £5 each plus postage and packing. Further details can be obtained from the Quatrefoil web site www.quatrefoil.org.uk or Jean Sheehan on 01379890237. There is also a good  Rickinghall Church website. 
Rickinghall Inferior Book Launch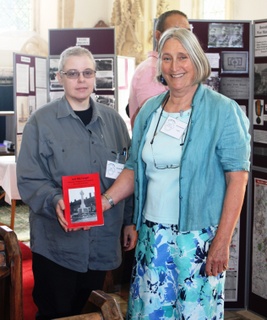 Quatrefoil launched its 9th book 'Lest We Forget' with an exhibition held in Rickinghall Inferior Church on Saturday 9th August 2014.  This book, researched by Diana Maywhort and Deborah Wells gives information on most of the men named on the war memorial for WWl from the villages of Botesdale Redgrave and Rickinghall.  Other men who returned from the war and are not mentioned on the war memorial are also included.  The book sells for £5 and is obtainable from Diana on 01379 898785 or Hilltop Hardware & Pet Food Store Botesdale.
Diana Maywhort and Deborah Wells at the launch.
2013 Round Tower Churches visited.
11th May 2013 Herringfleet (NR32 5QS), Blundeston, Gunton, before AGM at Gunton Church Hall.
RTCS at Herringfleet in 2007; At Gunton and Bill and Ada Goode's memorial.
1st June 2013 Sidestrand (NR27 0LT), Roughton, Aylmerton.
Sidestrand, & Roughton. Photos by Andy Seago. Dick pointing to herringbone pattern at Roughton. 
6th July 2013 Aldham, Hasketon, Ramsholt.
Tea and All Saints Ramsholt
3rd Aug 2013 Beachamwell, Cockley Cley, Watton.
Beachamwell. Bill Goode's photo and detail of the tower

7th Sept Stockton 2013, Kirby Cane, Bungay Holy Trinity.
Stockton tower and welcome letter. Kirby Cane set amongst cedar trees
Holy Trinity, Bungay
CHURCH TOURS 2013

21st April Hoe 2013, Worthing RT, Billingford, Bawdeswell
'Lyn and Dick greeting people at Hoe and Worthing
19th May 2013 Flitcham, Anmer, Dersingham, Fring
Dersingham & Flitcham with arcading
16th June 2013 Frenze, Thelveton, Dickleburgh, Rushall RT
21st July 2013 Stow Bardolph, Crimplesham, Bexwell RT, Fordham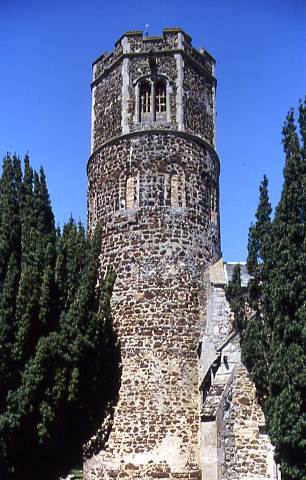 Bexwell, photo by Stephen Hart
Other activities in 2013
Talk at Shimpling St George on Saturday September 14th 2013. Round Towered churches by Stuart Bowell: a Norfolk and Suffolk speciality.
Church Tours with the Round Tower Churches Society 2012
12th May 2012 Mettingham, Barsham (Suffolk) and AGM at Ilketshall St Andrew 
2nd June  2012 South Ockendon, Broomfield, Gt Leighs, Bardfield Sailing, Lamarsh
7th July  2012 Ingworth NR11 6PD, Tuttington, Brampton
4th August 2012 Raveningham, Heckingham, Brooke
1st September  2012 Gayton Thorpe, Shereford, Great Ryburgh
RTCS also visited the Battlefield area, including West Tofts church, with its metal 'pantile' roof.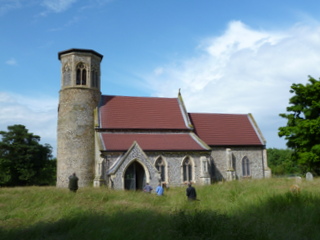 Sunday Church Tours 2012  
22nd April  2012 Mundesley NR11 8BE, Paston, Bacton, Edingthorpe
20th May  2012 Snetterton NR16 2LR, Shropham, Great Hockham, East Wretham
17th June 2012  Claxton NR14 7HZ, Ashby, Carleton St Peter, Langley
15th July  2012 Warham St Mary Magdalene NR23 1NH, Warham All Saints, Hindringham, Thursford