The Round Tower Churches Society is a registered charity with over 450 members, The Society works for the preservation of these churches and explores their origins and history and in the last 40 years has made grants to churches of over £150,000.
The Society was founded in 1973 by W J (Bill) Goode who devoted his retirement to a study of all the known round tower churches and published a key book 'Round Tower Churches of South East England'. Bill donated the proceeds from the book to the Society's grant fund and left an amazing collection of photographs which have been uploaded onto the Facebook Group of Round Tower Churches of South East England. Bill's archive is available at Suffolk Archive Centre in Lowestoft, although this may be changing.
The Times and EDP (Eastern Daily Press) published obituaries of Bill. To view these go to obituaries
Join the Society and:
Help us in the preservation of these churches
Receive our quarterly magazine, The Round Tower
Increase your understanding of the architecture and history of round tower churches
Take part in our church tours see

Church Tours & Events

Enjoy being part of a band of enthusiasts with a lively interest in this fascinating part of our heritage.
To download a joining form go to Join RTCS
RTCS Committee Members
RTCS privacy policy.
Society News
Stephen Hart died in 2014. For an obituary and  information about Stephen Stephen Hart 1924-2014

Jack Sterry, the author of books of tours of round tower churches died in February 2014. A sad loss for the lovers of Round Tower churches. Jack's books of tours can be purchased from the Society- go to items for sale.
Jack explained his love of Norfolk and Norfolk churches in his autobiography: Almost a Norfolk Lad.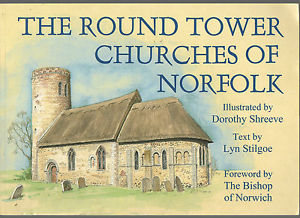 Dorothy Shreeve– known to Round Tower  Church fans for her wonderful illustrations of 'The Round Tower Churches of Norfolk' has died. Dot generously allowed the RTCS to use her illustrations. The book is now out of print, but copies are sometimes available at City Bookshop in Norwich or via Abe books.
Eddie Spelman, a long time committee member and supporter of the Society died in 2010. A piece about Eddie was published in EDP – see  Eddie Spelman.
RTCS has been given electronic copies of Messent's drawings of Round Tower Churches. These wonderful drawings date from the 1950s are used alongside photos of the churches. The drawing are available on the Facebook Group: Round Tower Churches of South East England.
Most of the photos on this website were taken by members of the Committee. Other photographs are acknowledged.
Gifts and funding raising. Thanks to
Geoff  Swain who has raised over £700 from the sale of stamps sent to him by RTCS members in 2014-5. Please save your stamps and pass them on to Richard Barham who will send them to Geoff;
a local Norwich company who has allowed us to use their franking machine to send at a reduced rate many of the most recent magazines, thereby enabling the Society to devote more of its funds to helping churches;
Stephen Hart who has left the Society a legacy to support repairs in Round Tower Churches as well as articles & materials about Round Tower Churches. Some of these articles will be published in future editions of the Round Tower and others are being added to the website;
several people who have made generous donations in money and in kind to the Society including Mr T R Mee has kindly donated two of his fine drawings of Round Tower Churches- Herringfleet (left) and Cranwich (right).
---
Privacy policy. The Society has updated its privacy policy in line with General Data Protection Regulations (aka GDPR) which applies from May 2018. For more information see The Round Tower for March 2018 or go to RTCS Privacy Policy.
---
Information about the Society- its membership, activities, financial report and grants to churches is reported to Society's AGM in May each year and is reported in June edition of The Round Tower. To access this information go to The Round Tower Magazine